New Twitter Tool – Use the #HootBar to Tweet from the Address Bar
Hoot-Fans now have more ways to message thanks to HootSuite's new HootBar
HootSuite's acquisition of TwitterBar — now called HootBar — is a milestone worth celebrating by all those who enjoy the dashboard's convenience and functionality. This handy new tool is designed to give you more ways to spread your messages from even more platforms.
Browser Power
The HootBar (previously TwitterBar) joins the Hootlet and the Chrome app in our collection of handy extensions to help you publish to your social profiles. With HootBar, you can Tweet with ease directly from your Firefox browser's address bar.

Those who already use the TwitterBar add-on will be familiar with how the HootBar works. Initially built by Tony Farndon and developed by Chris Finke it's already been downloaded over 1.9 million times and this tool is an example of open source software licensed under the GPL v2.
More Message Options
The beauty of the app is in its simplicity for quickly spreading messages. Just type a message and append it with one of the HootBar commands to post directly to Twitter; open the message in the Hootlet; choose multiple accounts; or choose from even more posting options.
The
HootBar
commands are easy. Take a look:
–post
sends messages directly to Twitter


–hoot opens the message in the Hootlet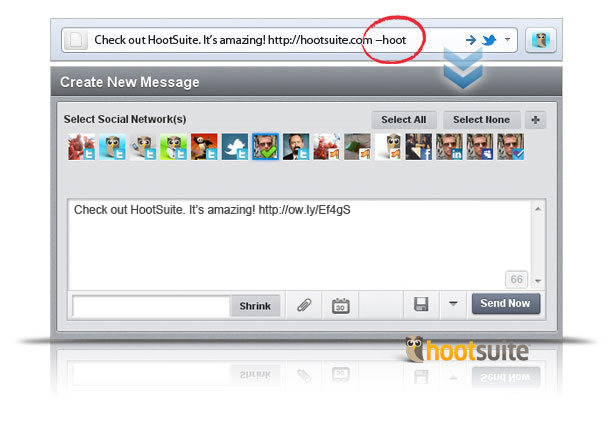 –options opens a new window with posting preference options, URL shortener options, etc.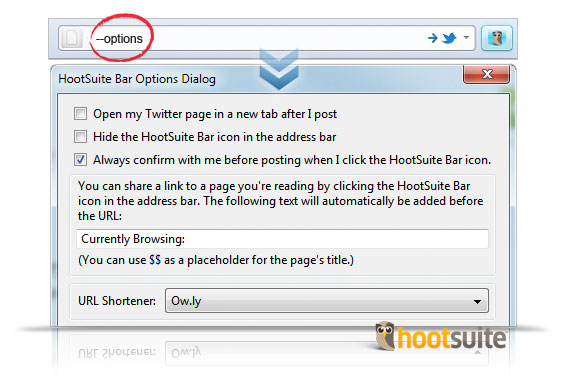 –account allows you to add multiple Twitter accounts

You can also post the URL of the page you're currently reading by clicking the HootBar Twitter icon in the address bar.
Download the HootBar today. And for more information, visit the Getting Started page where you'll find step by step instructions and how-tos for using the HootBar.
Growing Up
The HootBar is a great way for HootSuite to offer more ways to simplify your social media messaging. We look forward to seeing the good stuff you do with this new convenient functionality.
The acquisition of Twitterbar shows how we will continue to grow both the HootSuite community and center the business around the improvement of the dashboard.
Here's what CEO Ryan Holmes had to say:
Since launching our Freemium business model last November, we've reached a cashflow positive milestone. This revenue enables us to continue to improve and expand with acquisitions like TwitterBar in order to provide enhanced tools for our power and SME userbase. We look forward to building a relationship with the Firefox community and developers with this easy way of publishing to social media channels."

– Ryan Holmes, HootSuite CEO
Get Your HootBar
Ready to start sharing messages directly from your Firefox address bar? Head on over to our HootBar page to download the app right away. It's as simple to use as it is convenient. Start spreading your messages with HootBar!