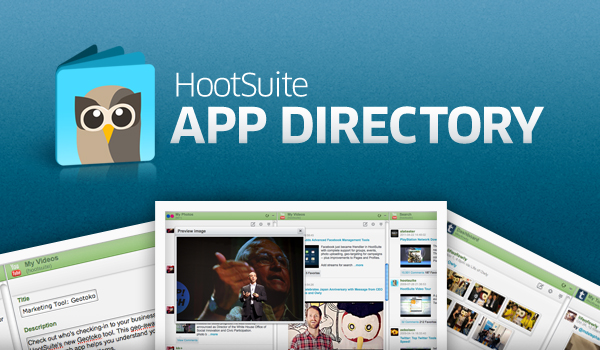 The HootSuite App Directory platform is live with YouTube, Flickr, Tumblr and Get Satisfaction apps. Now all HootSuite Pro and Enterprise users can share, manage and upload to these content sharing networks. These integrations further expand the HootSuite eco-system and enhance the dashboard's capabilities as a social media management system. HootSuite basic users will have access to the social content in the near future as well.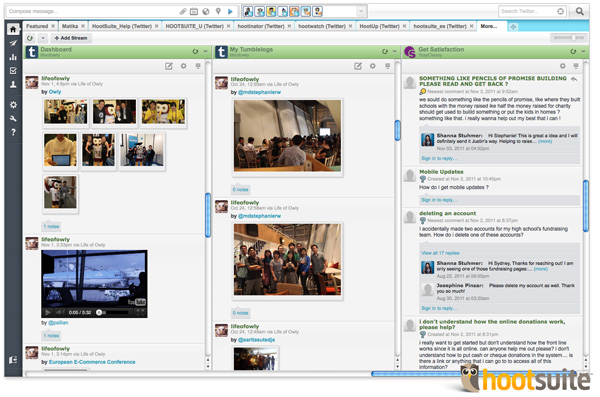 Get App Happy
The first wave of the HootSuite App Directory includes:

YouTube
The leader in online video sharing is now available in HootSuite. The YouTube app allows you to view videos, upload videos, search for videos, share videos to your social networks and more!

Flickr
Born and bred in Vancouver, Canada (just like HootSuite), Flickr is the professional go-to for photo-sharing. The HootSuite App allows you to add multiple Flickr accounts to view, search, upload and share images to your audiences across social networks.

Tumblr
This social content provider rocketed in popularity, particularly in the fashion industry. Now post to your Tumblelogs, view your Tumblelogs and the Tumblelogs you follow, and share posts from the dash.

Get Satisfaction
The Get Satisfaction app for HootSuite allows you to monitor your Get Satisfaction communities, reply to topics created by your customers, filter those topics and more!
This advance release is available right now for Pro and Enterprise users. On a free plan and don't want to wait? Upgrade to Pro today to start enjoying these essential integrations.
Quick and Easy to Use
It's quick and easy to install apps and add them as streams to your dash. Simply login to HootSuite and navigate to "Tools" –> "App Directory" to install apps. You can then add app streams to any tab in your dash via the "Add Stream" button – just as you would for other social networks in the HootSuite dash.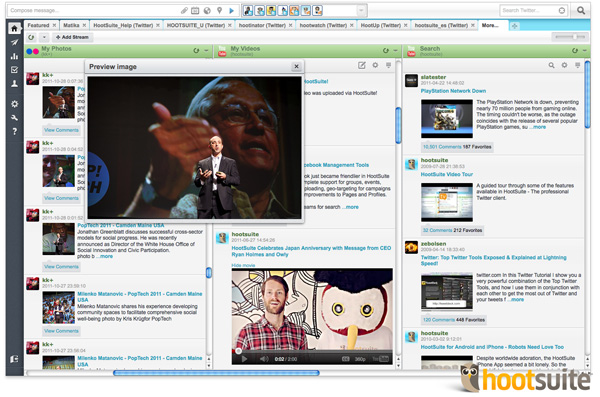 Info, Help, & Feedback
The HootSuite App Directory provides a platform for external, third party developers to extend the capabilities of the HootSuite dash by building custom integrations. Each app in the HootSuite App Directory is built and maintained by a HootSuite-approved external third party – and in some cases the platform/provider themselves – like David Dmytryshyn from Synaptive who developed the YouTube and Flickr apps for HootSuite, and Mahesh Asolkarwho created the Tumblr app. Are you a developer with an idea for an app? Visit the HootSuite App Directory landing page for more information about building into HootSuite.
Feel free to visit the HootSuite Help Desk for some basic support and guidance on installing apps and adding streams. We're also always interested in hearing your feedback, so head over to the HootSuite Feedback Forum to tell us what you think. And make sure to follow us on Twitter @HootSuite_Apps for the latest news on what's coming next.