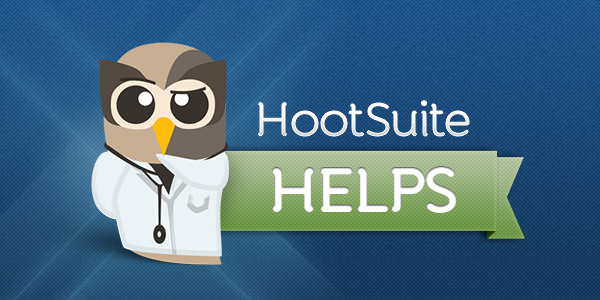 "We're building HootSuite one hug at a time, inside and outside the nest."
That statement, made infamous by our intrepid VP of Community Dave Olson, is the sentiment with which we approach all communications with our users. Perhaps what we are most proud of is the fact that our staff are not the only ones doing the "hugging," so to speak. One way that we keep our community members connected is with our Community Support Forum, now powered by Get Satisfaction, where users can help support one another.

Get a quick overview from our Support Owls:


The Community Support Forum is unique in that it is designed for existing users to help one another. In addition to being monitored by our support team for issues that need to be escalated into support tickets, the forum is populated with appointed HootSuite "Diplomats," on hand to answer questions and provide guidance on the use of HootSuite. But the help in the Community Support Forum need not only come from Diplomats; any user can chime in and help, and there are rewards for the ones who are especially helpful.
"There's a leaderboard right on the front page of the site that shows the most active members of the Community Support Forum," says Ryan Delmaire, Manager of Global Customer Service for HootSuite. "We will be monitoring it regularly, in addition to watching for items that need to made into support tickets."
"We'll identify the community members who are most consistently active," says Sarah Chambers, HootSuite Support Team Lead. "Users can also have their own Get Satisfaction profile within the site, to help promote their own social accounts, and monitor their stats from the forum." Chambers hints that there are "HootKits" (the much beloved HootSuite sticker kits) and other exciting swag for distribution to the most helpful community members.
Owls Helping Owls
Want to get started right away? Visit HootSuite.com/forum, or add a stream to your HootSuite dashboard by using Get Satisfaction in the HootSuite App Directory.

In addition to this forum, we offer training through HootSuite University, a Help Desk where you can submit a support ticket or read the many How-To articles available, and a Frequently Asked Questions section, which highlights the most popular of our help articles.