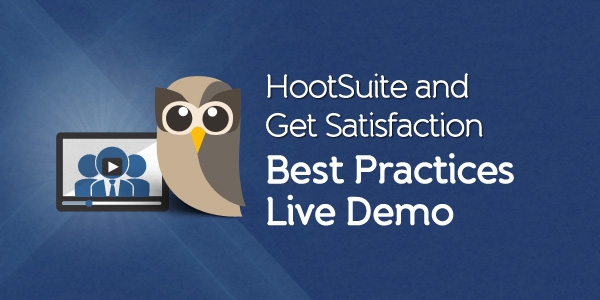 How can your company boost customer satisfaction levels? On the heels of our Customer Service is Social webinar last month, HootSuite will team up with Get Satisfaction for another valuable webinar. You will learn hands-on tips and tricks for using the Get Satisfaction app in HootSuite's social media management system. Get insight into how to:
Engage your Get Satisfaction community directly within HootSuite.
Respond to Tweets and Facebook wall posts with existing community content.
Create new Get Satisfaction topics from Tweets and Facebook wall posts.
This webinar is now on-demand! Click the link below to view this webinar.

Mark Holder, Director of Integration Partners at HootSuite will be your host, with Don Baron, Director of Business Development at Get Satisfaction. They will dive into product-specific demonstrations to show how you can optimize and improve your customer experiences using the two tools.