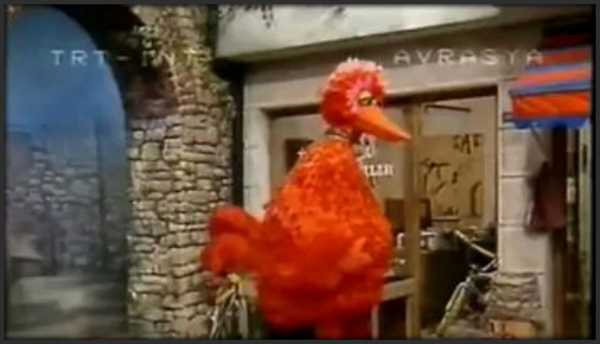 The following post is written in Turkish by our Turkish Ambassador, Cem Simsek, highlighting interesting brands, people and institutions using HootSuite that hail from Turkey. In the past we've highlighted HootSuite power users in New York, France and London. Without further adieu, enjoy the hoo's hoo of Turkey!
TRT'de yayınlanan Susam Sokağı'nın Minik Kuş'unu hatırlar mısınız? Y jenerasyonundan olanlar elbette hatırlayacaktır. Sevimlileştirme amacıyla olsa gerek İngilizce aslı "Big Bird" (Büyük Kuş) olmasına rağmen Türkçe'ye Minik Kuş şeklinde tercüme ediliyordu bu karakterin adı. Adı gibi tüyleri de biraz farklıydı bizim Minik Kuş'un, havuç bazlı bir diyetten olsa gerek biraz turuncuya çalıyordu (orijinal "Big Bird" kanarya sarısıydı).
Eğlendirerek öğretme mantığının amiral gemisi sayılabilecek Susam Sokağı'nın hedef kitlesi okul öncesi ve erken dönem okul çocuklarıydı. Program hala TRT klasikleri arasında sayılır.
Siz de Susam Sokağı'nın yeni jenerasyonlar için uyarlanarak yeniden yayına sokulmasını isteyenlerden misiniz?
TRT'nin Minik Kuş'a yeniden kucak açma ihtimali nedir bilemiyoruz ama Twitter hesaplarının güncellemesini HootSuite aracılığıyla yaptıklarını, yani bizim minik baykuşumuzla gayet iyi anlaştıklarını söyleyebiliriz.
@TRTKurumsal'ın tweetlerini HootSuite aracılığıyla yayımlamayı seçtiğini fark ettiğinde HootSuite'in Türk Baykuşu heyecandan neredeyse fesini düşürüyordu!
[youtube http://www.youtube.com/watch?v=CkGl9QXgIcU]
TRT'nin yanı sıra Microsoft Türkiye'nin resmi Twitter hesabı @MicrosoftTR, müşteri hizmetlerine odaklı @MicrosoftYardim, @MSN_Turkiye ve @MSNmagazin hesapları da HootSuite aracılığıyla güncelleniyor.
Burada anmadan geçemeyeceğimiz bir diğer HootSuite kullanıcısıysa @RadioEksen resmi profilini kullanan Radyo Eksen (This weekend we rock Portland!).
Sosyal medyanın nabzını tutan Sosyalmedya.co yazarlarından @gulendmrk'un HootSuite uygulama kataloğundaki en yeni eklentileri değerlendirdiği makalesini okudunuz mu?
Sosyalmedyaport.com'dan @UlkuYucee de HootSuite'in Google+ Sayfalar entegrasyonunu değerlendirmiş.
HootSuite aracılığıyla Türkçe tweetleyen bazı marka, kurum ve çok sayıda takipçisi olan kullanıcılar:
RADYO ve TELEVİZYON KANALLARI
@TRTKurumsal
@TNTturkiye
@IslerGucler
@TRTOkul
@RadioEksen
GAZETE, DERGİ ve HABER PORTALLARI
@MSN_Turkiye
@MSNmagazin
@HurriyetSpor
@Odatv
@TVHaberturk
@OnedioSpor
@gece24com
MARKALAR
@MicrosoftTR
@MicrosoftYardim
@Vakif_Emeklilik
@limon_company
@KingEvAletleri
@CottonBarOnline
@Helen_Harper
POPÜLER TWITTER KULLANICILARI
@KizlarSozlugu
@ErkeklereSozluk
@bunudaRTlemeli
@Guzel__sozler
@GoogleGercekler
DİĞER
Yoksa siz de mi HootSuite kullanıyorsunuz? HootSuite'in en çok hangi özelliklerinden faydalanıyorsunuz? @HootSuite_TR'a tweet atarak kendinizi tanıtırsanız bir sonraki blog yazımızda size de yer verebiliriz.
Son olarak, HootSuite tarayıcı uygulaması arayüzünün Türkçe'ye tercümesine katkıda bulunmaya ne dersiniz? http://translate.hootsuite.com/tr adresindeki HootSuite tercüme projesinde profilinizi oluşturup arayüzün tercümesine katkıda bulunabilirsiniz.