New Facebook Brand Pages Best Practices ~ New HootGuide
By Donné Torr • 2 years ago • 2 Comments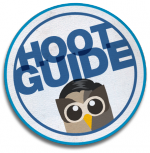 This HootGuide includes the following Facebook Timeline best practices:
Customizing your Cover Photo
Engage your audience by choosing a unique photo that represents your organization's identity
Managing your Pinned Posts
Focus your message by pinning posts and presenting topical and timely content
How to Highlight a Post
Take the opportunity to engage with your community and draw attention to a special event on your facebook page.
Managing Milestones
Tell your organization's story by creating Milestones on your Facebook page.
An Overview of Facebook Analytics with HootSuite
Find out the ROI on your Facebook campaign by using Facebook Analytics in HootSuite
Insights Into Success
Stay tuned for our next HootGuide on social media security, coming soon.
Interested in learning more? Stay tuned for our upcoming HootSuite University Lecture Series on Five Best Practices for New Facebook Pages, available Wednesday, April 4th.
Enterprise is HootSuite's top tier plan, with the most advanced functionality, training and support available. Built for business, Enterprise allows organizations to securely and effectively integrate social media throughout the organization allowing them to become truly social.