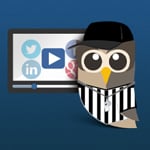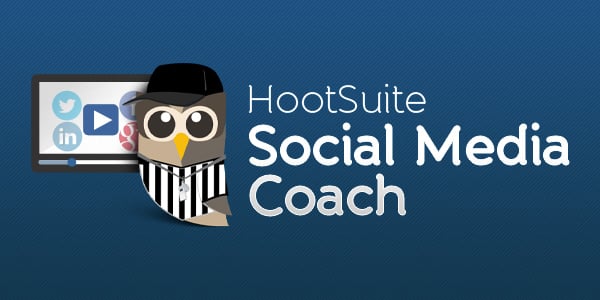 The HootSuite Social Media Coach Team prefers to keep our group conversations out of email and inside the HootSuite dashboard. In our first two posts of this series, I set up the groundwork for Organizations and Team Collaboration, and now you're ready for the ultimate Team tool…HootSuite Conversations.
HootSuite Conversations is an all-encompassing internal collaboration tool. The tool allows for real-time conversations with the Teams you have set up in your Organization – all within the HootSuite dashboard.
To learn more about HootSuite Conversations and setting up your Organization, join us in our Social Media Coach webinars:

Use the HootSuite Conversations tool to:
Simplify Authentic Communication: Converse with anyone you work with, collaborate with, and share messaging with, easily and intuitively within your HootSuite dashboard.
Amplify Social Internally and Externally: Send business updates, social messages, corporate marketing and press content to Conversations for teams to redistribute across social networks.
Discuss Social Messaging Internally: Easily send social messages from the dashboard to Conversations to discuss an appropriate response.
Share in a Real-time Social Content Library: Who better to share industry-related content than your colleagues?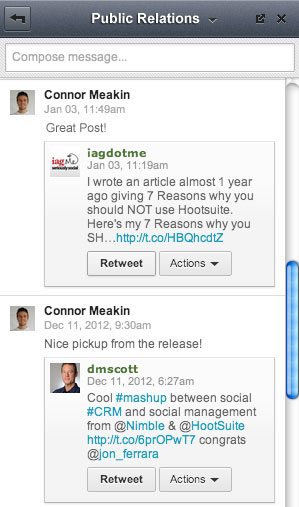 For example, if a team member at your start-up comes across an interesting PR piece about the business or industry, share it to Conversations for team or business-wide discussion and redistribution via social channels.
Localize your Teams: Connect across your business' multiple teams and departments whether a larger office with many departments or regional stores across the country, bring everyone together into the conversation as a team.
How-to's on HootSuite Conversations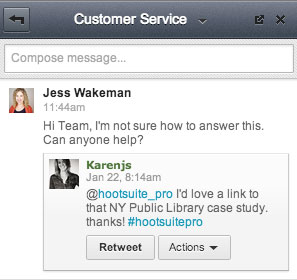 Simplify Communication: With HootSuite Conversations you can converse with anyone you work with, collaborate with, and share messaging with, easily and intuitively within the HootSuite dashboard.
For example, if you are a part of a customer service team and you come across a question in Twitter you aren't sure how to answer, instead of emailing your co-workers for clarification you can simply send this message to Conversations. This allows your team to collaborate in real time to come up with an appropriate response.
Check out this HootSuite University video for more how-to information:
Set up your business' online efforts for success by creating an Organization that acts as a foundation for your social media.
For more guidance on how to collaborate effectively with your team check out our Social Media Coach guide:
Learn more about Organizations and other HootSuite Teams terms in this Teams Cheat Sheet: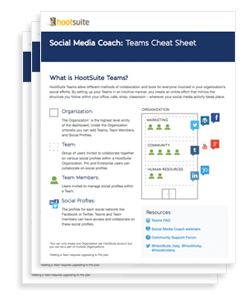 Let me know how you collaborate in HootSuite Conversations! Plus, if there is a HootSuite product or feature that you'd like to learn more about, register for my free weekly Pro Webinars and follow me on Twitter @HootVicky.