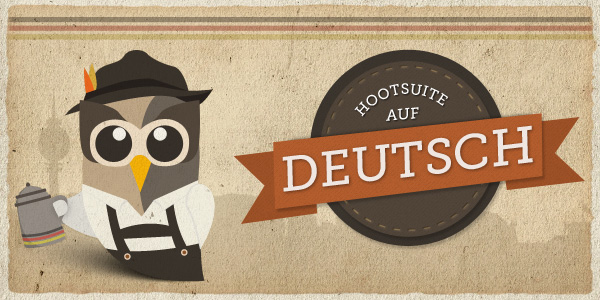 To celebrate Oktoberfest and welcome the German social media community, HootSuite flies across the Atlantic to Deutschland with a beta version HootSuite for German on web and mobile, plus an integration with professional social network Xing.
We're pleased to reach out to introduce ourselves to Germany and invite you to help us localize for your needs. Consider helping us improve the German translation and share your ideas at @HootSuite_DE. We're listening. Danke.  
HootSuite is pleased to offer HootSuite in German for the web-based dashboard, as well as mobile versions for HootSuite for iPhone / iPad, Android and Blackberry. Now our German friends can use HootSuite in their native tongue to post to their favorite social networks.
The new German option is now available for anyone to use – just choose by clicking Settings > Preferences then selecting German (or any other desired language) from the pull-down menu.
Enjoy this greetings to our German community from your friends at HootSuite HQ in Vancouver:
HootSuite offers a variety of useful features, from scheduling your messages to managing multiple accounts, to our newest tool: HootSuite Conversations. HootSuite also boasts in-depth security features to protect your valuable presences plus allows you to measure the success of your social media campaigns with analytics.

Introducing Xing!
Along with the German version of HootSuite, we're excited to announce the addition of Xing to the HootSuite App Directory.
The Hamburg-based network boasts an impressive 3 million German users along with 12 million worldwide. This social network allows you to easily locate potential business opportunities, collaborate with other industry professionals and seek out employment. And you can do it all from the HootSuite dashboard for free!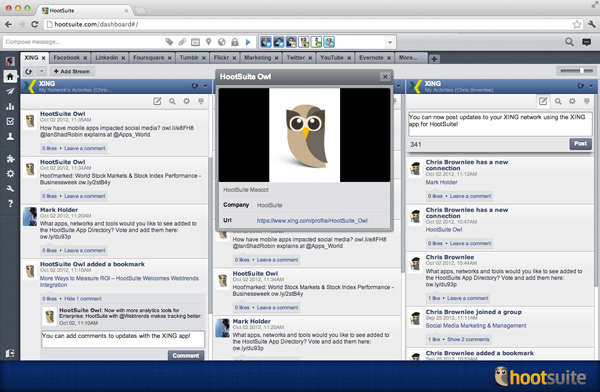 Xing App Key Features:

Post status updates to your network
View your network activity feed
View and add comments and likes to network activity
View Xing user details
Install Xing for HootSuite today and manage your professional online persona with ease. Questions or comments about Xing? Let us know @HootSuite_Apps.

Special Thanks & a Call for Owls!
As we've worked to learn about the German audience, we've enjoyed help from amazing Owls. Special thanks to contributors to the translation project, Wasja Steinborn, Kim Anisi, Rene Planner and Achimn.
Keep in mind, this is a beta release and HootSuite for German is not quite complete – we invite you to help and request feedback on how we can make HootSuite better for German. Let us know what you would like next. Leave a comment or Tweet us @HootSuite_DE to stay updated on the latest news, tips and culture from HootSuite.
Want get more involved with HootSuite? Apply to the HootSuite Ambassador program and help us spread owl culture in Germany. You'll be our owl on-the-ground, hosting HootUps and providing insight to our German localization.
Peruse this blog about HootSuite's German localization in German as well!
Stay tuned for more German content starting with a special article about Security Tips for Protecting your Social Media Profiles.