HootSuite is proud to announce an integration with Podio, a project management and team collaboration platform. The integration streamlines an organization's content marketing activities by allowing teams to create, share, and track content in one place. Now you can move seamlessly between your Podio workspaces and your social streams without wasting time or effort.
At HootSuite we know it takes a village to produce great content, especially when you're working on deadline. You need shared spaces to collaborate, not only with your team but with contributors throughout your organization. Podio's workspaces enable cross-functional groups to share ideas and build projects quickly, while keeping stakeholders in the loop and on schedule. But if you want to work efficiently, it's critical to have that information available for your social media team in the right context.
The Podio app for HootSuite harmonizes content planning and execution by allowing your social team to collaborate freely with the rest of your marketing machine. With streamlined access to Podio workspaces, they can easily schedule campaigns, share audience feedback with content creators, and contribute ideas for upcoming projects.
Christian Blomberg, Podio's head of business development, explains: "You can now plan and collaborate on future content, and then share and track it all in one place. This way you stay on top of everything that is happening in your community, as well as everything that is coming up—and it all takes place in your HootSuite dashboard."
The Podio app in HootSuite allows you to:
Post new messages, comments, and @mention team members
Monitor project notifications and status updates
Share files, links, and survey questions
View all or filter by active workspaces
Collaborate with your team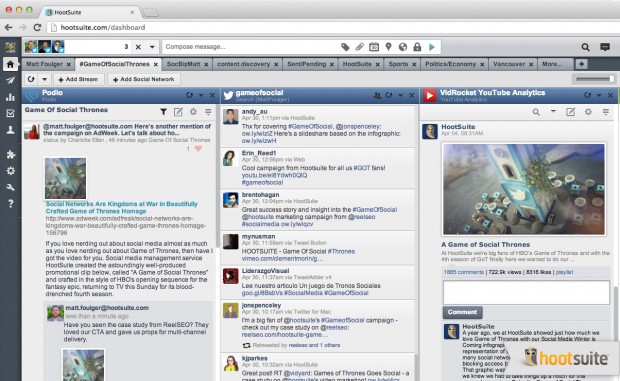 You can configure Podio streams in HootSuite to fit your own workflow, campaign structure, and content marketing strategy. For example, you could include a Podio workspace for a particular project in the same HootSuite tab that you use to track the content on Twitter, Facebook, Youtube, and other social channels.
Here's a HootSuite tab for our recent #GameOfSocialThrones video, where we can keep an eye on our Youtube metrics and also engage with fans who use the hashtag. Now we can also collaborate internally through our dedicated Podio workspace in the same context.
Transform your ideas into action
Social media is a rich source of ideas for new content, so social media managers and other members of your organization need an effective way to share their insights with content creators. However, keeping those ideas locked up in email threads where nobody else can discover them is not a viable option. The Podio app allows social media practitioners to capture insights in HootSuite and then rapidly make them visible in their Podio workspaces where they can fuel the creative process. It turns your social team and the communities they engage with into powerhouses of content generation.
Collaborate, share and track more efficiently with your team members now with the Podio app for HootSuite. The Podio app is free for all HootSuite users. Start today!