#HootTip: Changing Notifications on #HootSuite for #BlackBerry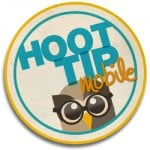 Downloading HootSuite for mobile is the first step to harnessing the power of the Dashboard in the palm of your hand. We took the features and tools from the HootSuite Dashboard and put them into a pocket-sized tool custom made for a mobile experience. To help get you acquainted with the functionality, or just give you a refresher, we have a new #HootTip all about a handy mobile HootSuite feature.
Changing Notifications for Your Streams
Turning on notifications on your HootSuite mobile app is a great way to stay on top of a variety of hashtags, topics and mentions for your account. We've designed HootSuite for BlackBerry to accommodate every level of social media use. Whether you are a power user, using social media for business, or just a casual tweeter, you can customize your HootSuite app to notify you on specific streams and at different intervals.
Here's How
Remember to keep checking your app store to get the latest updates and features for HootSuite BlackBerry. Like many updates, we've added these handy features based on your helpful feedback. What's your next idea? Also keep an eye out for a new #HootTip each week – they're short, sweet and re-Tweetable so you can share your HootSuite expertise with your friends and followers. Some lucky RTers may just find themselves with a #HootKit… It's our way of saying "thanks for spreading the word."