#HootTip: How to Create a #Facebook Comment Stream in #HootSuite
Social media has given users the ability to browse through posts and messages in real-time and engage immediately. For those who use Facebook to interact with friends, fans, and clients, monitoring and engaging in the conversation that comes after a post is key. To help get you acquainted with the Dashboard's functionality, or just give you a refresher, we have a new #HootTip all about a handy HootSuite feature.
Creating a Comment Stream
In one of our most recent updates, we added a flock of features that enhance the Facebook functionality within HootSuite. With the ability to monitor comments, likes, and posts from the Dashboard, it's easy to see how using Facebook in HootSuite can work for you.
Here's How
If you don't have one set up already, create a new tab for your Facebook profile, page, or group.
Go to your Facebook tab and find a post that you would like to monitor.
Once you select the post, hover over the upper right corner and click the down arrow.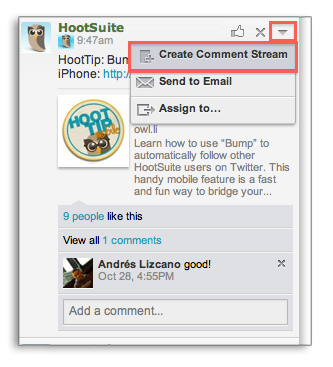 A drop-down menu will appear, click the "Create Comment Stream".
This will create a separate stream in your tab that lists the comments and likes for the selected post.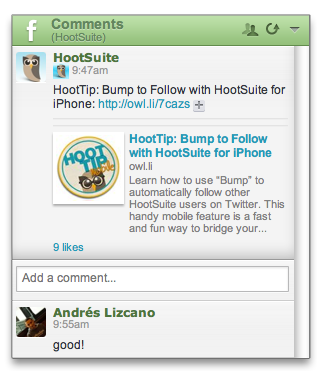 Like many updates, we've added these handy features based on your helpful feedback. What's your next idea? Also, keep an eye out for a new #HootTip each week – they're short, sweet and re-Tweetable so you can share your HootSuite expertise with your friends and followers. Some lucky RTers may just find themselves with a #HootKit… It's our way of saying "thanks for spreading the word."