#HootTip: Using Favorites in #HootSuite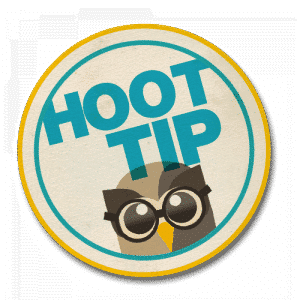 HootSuite is a great online tool, as well as a mobile app. There are so many ways to use HootSuite for monitoring the social web, that even advanced Owls may need a reminder from time to time. The dashboard is chock full of features and tools to help you make the most of your social media management. Plus, we're always adding more. To help get you acquainted with the various functionalities, or just give you a refresher, we have a new #HootTip all about a handy HootSuite feature.
Using Favorites
Information comes and goes at an incredible rate these days. To stay current and fresh, Owls need to be faster than ever. Using the Favorites feature in HootSuite can help you bookmark tweets to read later, keep a list of messages you want to retweet, and more. It's also a useful feature for your HootSuite mobile app when you're on the go.
In this #HootTip, we'll show you how to keep track of all your Favorite tweets in the HootSuite Dashboard and mobile apps, making sure you're running on maximum efficiency, even on the fly.
Here's How
In your HootSuite dashboard, hover over the tweet you would like to mark as Favorite.
Click the little arrow button on the upper right corner of the tweet.
Select "Favorite" from the pulldown menu.
The selected tweet will then be added to your Favorites stream.
Viewing Favorites
Now that you've marked a flock of tweets as "Favorite", what's next? This is where the HootSuite Favorites feature really shines.
Here's How
In the HootSuite Dashboard, access the "Add Stream" button.
After opening this screen, select the profile you want to add the stream to.
Next, select "type of stream" from the pull down menu, and select "Favorite Tweets". 
Click create stream, and all your Favorite tweets will appear in one place!
Mobile HootTip Bonus!
A little mobile bonus for all those mobile owls out there.
Here's How
Open up your HootSuite app and select a stream.
Once you're looking at the stream, select the tweet you would like to Favorite.
Iphone: At the top of the tweet there will be a tab that says Favorite with a star beside it. If the star turns yellow, you've successfully marked this tweet as a Favorite.
Android: On the bottom right hand of tweet, there is a star on the bottom you can press. When the star turns yellow you've marked this tweet as a Favorite.
Blackberry: Click the menu button to view the Favorite option. After you've selected Favorite, a confirmation will appear showing that you were successful.
Like many updates, we've added these handy features based on your helpful feedback. What's your next idea?
Keep an eye out for a new #HootTip each week – they're short, sweet and re-Tweetable so you can share your HootSuite expertise with your friends and followers. Some lucky RTers may just find themselves with a #HootKit… It's our way of saying "thanks for spreading the word."