New #HootTip for #SXSW ~ Keyword and Search Streams in HootSuite
There are so many ways to use HootSuite for monitoring the social web, that even advanced Owls may need a refresher from time to time. In the spirit of SXSW, we've got a new #HootTip to help you explore more of the handy features in the HootSuite dashboard.
Hoot Tip: When to Search, When to Keyword
Using social channels is a great way to find new information. Learn what people are saying about various events or get updates related to topics you're interested in — like music or festivals, for example.
With HootSuite, you can create both Twitter Search streams and Keyword Tracking streams, all without leaving the dashboard. But the question is, when do you search, and when do you keyword?
In brief, the Twitter Search function in HootSuite will allow you to quickly search for terms and then filter all Tweets on that topic within your stream. You can also view trending topics as well as the explanations for why they're trending.
This is distinct from Keyword Tracking, which allows you to track multiple, distinct terms within one column. And you don't need advanced knowledge of Twitter search arguments, so you can track all Tweets with "SXSW", "social media" or "Austin" in one stream.
Here's how you create a Keyword Tracking Stream:
1. Click the "+ Add Stream" button

2. A window will then pop up that says, "Add Stream". Stay on the default social network (which is Twitter). From here, click the Keyword column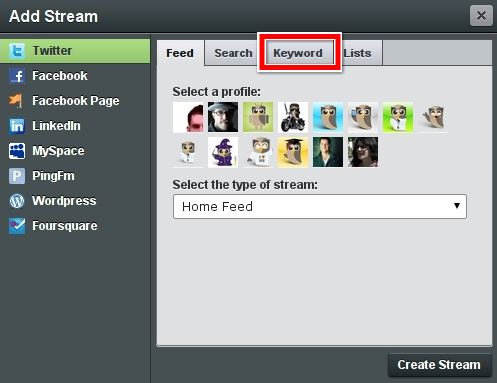 3. Add the keywords you'd like to track. When you're finished, click "Create Stream"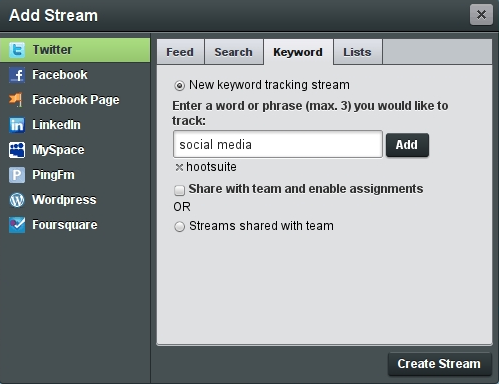 Alternatively, to save a Search Stream within the dash, type your search word in the search box on the upper left side of HootSuite. A window will then pop up displaying search results. At the bottom of the window, there is a button that says, "Save as Column". Click this button, and your search will be saved as a column.
Keep an eye out for a new #HootTip each week – they're short, sweet and Re-Tweetable so you can share your HootSuite expertise with your friends and followers. Some lucky RTers may just find themselves with a #HootKit… it's our way of saying "thanks for spreading the word."