News Round-up from Nippon – Ryan Holmes says hello to TechCrunch
By Dave Olson • 4 years ago • 3 Comments
Big in Japan
Continuing on with Ryan's busy schedule in Japan comes a video and interview in TechCrunch Japan which includes a special "hello" video message in the article: [jp] hootsuiteが7月に大幅アップデートを予定。Ryan Holmes氏インタビュー auto-translated to: HootSuite plans major updates in July – Ryan Holmes Interview.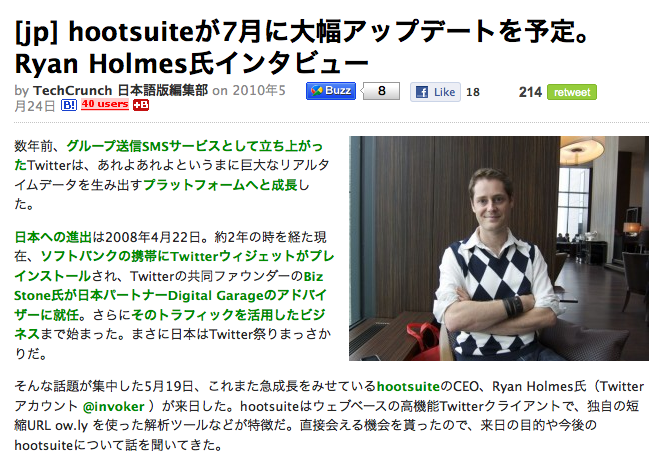 One of the questions addresses the differences between HootSuite and other social media tools – here's a translation:
How do you differentiate Hootsuite from Twitter Apps Seesmic and TweetDeck?


First, We think we should divide into consumer and enterprise Twitter users. For example, Twitter web page is used by the common people. Seesmic and TweetDeck are for power Twitter users. In our term of classification (or category), we are hoping to target the enterprise market. So, for the power user features that you have a Seesmic or TweetDeck and as such, the next step further for business users is to move to HootSuite for features such as teams and analysis.

In addition, Japan seeks support for services like mixi and GREE. HootSuite now offers Japanese version of the page and are listening to requests with two Japanese staff.
Lab Report
Oh dear, it seems that my mini hootsuite owly got lost in flight while on a business trip. He lost his way somewhere between San Francisco, New York, Washington, and Japan! If you see this small owl, please let me know. He's probably scared being in a new area which he doesn't know, and most likely he wants to be back home in Vancouver. If you spot him, please leave me a quick message to let me know, or help spread the word (especially if you live in these locations). Here's hoping that he will be found and safely return home (: