Real Estate Agents Get Social ~ New #HootSuite #IndustrySheet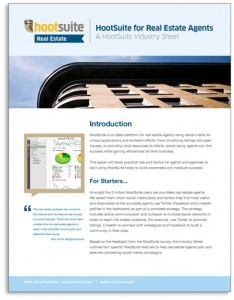 Today, we're pleased to share an "Industry Sheet" focused on the ever-evolving role of Real Estate Agents.
Whether for advertising, prospecting, or compiling information about neighborhoods, social media is a valuable tool for entrepreneurial industry professionals. In this paper, you'll lear practical methods for listening, broadcasting and outreaching efficiently.
This guide is geared towards social media savvy agents and agencies with practical tips from industry leaders. Learn from their successes and find examples about how HootSuite can power social media campaigns and build business.
Industry Tips
Keen on getting social for your real estate practice? This HootSuite Industry Sheet includes helpful tips from your industry peers. Find out how they make the most of the business-friendly tools in the dashboard to super-charge their success while saving time. It's ready for you to download, embed, or share.
Connect, Socially
This Industry Sheet is released in conjunction with a talk by HootSuite CEO Ryan Holmes at Real Estate Connect in San Francisco. If you're attending, be sure to catch Ryan's talk for a valuable promo code offer. Ryan will present some macro trends in social media and some practical applications for the industry. Check out #ICSF on Twitter to follow along.
Let us know how you're using HootSuite to advance your business. We're always listening, and we enjoy hearing the new and unique ways in which you use the dash. Send a note to @HootSuite on Twitter to get in touch. Agencies can also consider the HootSuite Enterprise package and schedule a demo with our @HootBusiness team.