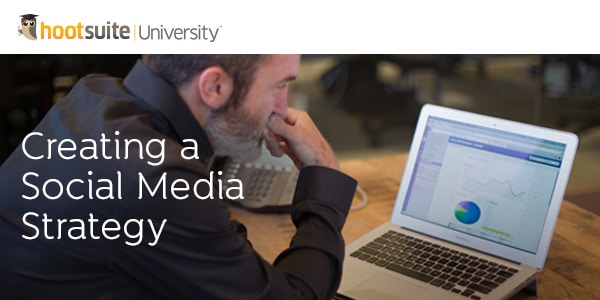 This is the first of 5 posts adapted from our Guide to Creating a Social Media Strategy. This simple, step-by-step guide allows individuals and businesses to get the most out of their social media efforts by helping them identify, plan and execute their social media goals.
Getting Started
In order to gain customer trust, establish expertise, and meet potential customers, every business needs to have a social media presence. It's simply not enough to have social media sites up for your business; without a clear strategy for social media use, your business will struggle to get the customer engagement levels and increased sales you're looking for. To get the most out of your social media efforts, your strategy should include the following:

Use this guide as a first step towards learning more about how to create a social media strategy for your business. For more in-depth guidance on creating your social media strategy, HootSuite University offers step- by-step best practices and business case study examples in a 30-minute on-demand course online. Enroll at learn.hootsuite.com.
Step 1: Clarify Your Business' Social Media Goals
All business planning should start with defining clear goals, and social media is no exception. Without a clear idea of what you want to accomplish with social media, you are unlikely to achieve anything at all because your efforts will be scattered or aimless. In addition, different social media goals require different sets of action. For example, if your goal is to gain consumer credibility, that looks very different than if your goal is to convert 30 percent of prospects to sales.
Start by writing down at least three social media goals for your business. Make sure each goal is specific, realistic and measurable. It is vital to make your goals measurable so that you can track your business' progress towards each goal. To test how measurable your goal is, ask yourself what it will look like when partially or completely achieved. If you don't know, you need to continue working on the goal's measurability. It's also important that your goals for social media relate to your overall goals for your business. Rather than choosing social media goals arbitrarily, make sure these goals tie in with your overall sales, marketing and productivity goals.

Download the full guide and start creating your social media strategy today.