Understanding how social media drives traffic to your company's website or online store is critical to your digital marketing success. But if your data is siloed, there's no way to tell which social media tactics are leading to the most ecommerce purchases, newsletter signups, and other conversions. To gain a clearer picture of social media ROI, you need to close the loop between social media and website analytics.
Using Hootsuite Enterprise's Conversion Data Exporting feature, your business can bring social media data directly into web analytics platforms such as Google Analytics and Omniture, giving you an unmatched perspective on the channels, messaging, content, and employees that are driving the greatest business impact. Specifically, you can better identify:
Which message types result in the most conversions
Which social accounts are creating the most valuable traffic
Which social platforms are providing the greatest return
Which team member is driving the most conversions
The best time of day to publish for a certain desired result
Find out which tactics and strategies best support your business goals in our demo, Conversion Data Exporting: Unlock Your Social Data, available now for on-demand viewing.
Unlock social media data to improve ROI
Bringing rich social data into web analytics will allow your business to calculate the direct financial impact of your social media campaigns and budget for the initiatives that deliver results.
E-commerce businesses can implement end-to-end tracking from social posts to sales, segmenting which social networks and profiles are driving the greatest revenue
Content teams can link page views, downloads, or sign-ups to social media posts and determine optimal digital marketing strategies
Tourism and hospitality companies can analyze how social campaigns impact the volume of bookings throughout the year
How Conversion Data Export works for you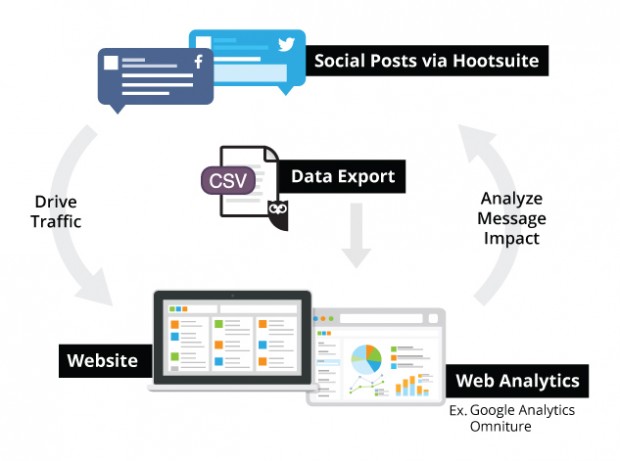 Hootsuite Enterprise's Conversion Data Export feature automatically inserts a unique identifier into every link sent via Hootsuite and then enables a formatted download of social data to use within web analytics platforms. In a few clicks, analysts can download a full report of social media activity from the Settings tab of their Hootsuite Enterprise account. This report is an automatically configured .csv file that can quickly be integrated with Google Analytics or Omniture.
A unique identifier (HootpostID) is added to each link sent via Hootsuite
A .csv report can be downloaded for links generated during a specified duration of time
The data points included in the .csv report include:
HootpostID: The unique identifier for each link
Message: The content of the message in text form
URLs: URLs included within the message
SocialNetworkID: The ID of the social network to which the message was posted
SocialNetworkUsername: The name of the social network to which the message was posted (eg. @Hootsuite)
SocialNetworkType: the type of the social network to which the message was posted (eg. Twitter, Facebook)
CreatedUserEmail: The Hootsuite registered email address of the user who created the message
DateSent: The date and time that the message was published
      4. The .csv report is formatted for easy upload into Google Analytics or Omniture for further analysis. Your Business Analyst team will have the specific knowledge of how to best perform this import, based on custom configurations.
Put social data to work for your business. Watch the demo today.