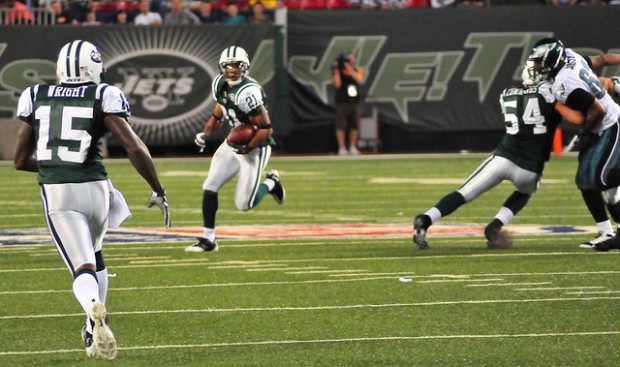 Crammed into your friends living room or office boardroom with the same printed player ranking as nine others sitting across from you, it is finally draft day! Fantasy is a full time job — those who participate in fantasy sports leagues  and pools often do so with a certain addiction.
Winning your league requires research, strategic risk and luck. The early mover advantage which savvy individuals enjoyed by scouring blogs for waiver wire and free agent pickups is over. Everyone reads the same regurgitated articles.
Not to worry, young grasshopper, because I'm here to tell you a secret that your league mates are not taking advantage of: social media.
With a few social tricks, you can tilt the odds in your favour on the road to fantasy supremacy and the bragging rights that go along with it by winning your league.
Research Smarter, Not Longer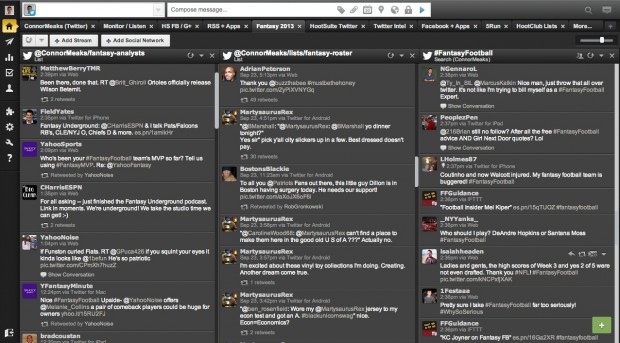 Without too much searching, you can find writers making a nice living as fantasy analysts. The industry is massive, with opportunists carving out a niche for themselves as fantasy experts.
Start by creating a 'Fantasy' tab in your HootSuite dash, then make your first Twitter list for writers and analysts. Mass following a bunch of spammy writers gets clumsy, clogging up your feed. A curated Twitter list of writers from different websites allows you to scan for the instant advice or sleeper picks you crave.
This is a much leaner approach than spending time reading lengthy articles that dance around weaving metaphors before delivering any useful information.
#BonusTip: Add one beat writer from each team you have a fantasy player on. These writers travel with the teams and have the closest access to players for injury, lineup and roster updates.
Embrace The Hotseat on Draft Day
With training camp and preseason winding down as your draft day approaches, rosters are in flux. You all know the guy who proudly drafts someone only to find after that said player was cut or blew out his knee in the last preseason game — don't be him (or her).
Do a quick search for your prospective draftee to get the latest news to cover your bases. Even if you're 'on the clock' a quick search saves you not only embarrassment but a valuable roster slot.
The next tip while drafting is to create a second Twitter list for your fantasy roster. Add your players as you draft them. This lets you keep tabs on your squad, so you know when they're out late celebrating a win (really?) or watching game tape on a Friday evening.
Take Advantage of Collaborative Journalism
More important than who you draft is how you adjust through the course of the season. 'Fantasy guy' spends his days gathering intelligence on free agents and proposing ridiculous trades to his peers in attempts to gain an edge.
Mainstream news breaks first on Twitter — sports, and for your sake, fantasy news is no different. Take this example by ESPN insider Adam Schefter:
Filed to ESPN: Browns RB Trent Richardson to Indy for Colts' first-round pick.

— Adam Schefter (@AdamSchefter) September 18, 2013
The same headline appeared on ESPN.com ten minutes later. Season ending injuries and trades present opportunity for the quickest bidder (or guy with nothing better to do). If you are checking social, you're in prime position to use this information to your advantage.
With owners taking a border line neurotic approach to fantasy, ten minutes is a lifetime. Most fantasy writers weigh in with their own advice following trades on… you guessed it, Twitter. That's where the opportunities lie. In some cases you may be able to grab a backup-turned-starter.
Timely risks pay off in fantasy. Gone are the days of headlines and main page articles. Journalists can't afford wasting time going through edits because of the competition to break a story first. Use this to your advantage.
Get Instant Advice
I'm answering 100 Q's before kickoff. But do NOT ask single-position, standard league Qs! Those are here: http://t.co/yVe8Ay3iUT

— Christopher Harris (@CHarrisESPN) September 22, 2013
Fantasy experts are receptive to answering questions on Twitter — some even do weekly Twitter chats (scheduled and sporadic) where they answer tons of questions in one go. Don't hesitate to fire off a quick question and gain new perspective on your lineup. The gap is closing, but you can still gain advantage over your fantasy foes using social media. Lastly, and perhaps most importantly, fuel the fire with lighthearted smack talk — you can do this on social media as well!
@ConnorMeaks i'm thinking side bet! — Scott Tupper (@tups4) September 24, 2013
Your Turn
What are your secrets and tips for dominating your fantasy league? Leave a comment!