This is the second of a three part series: A Look Back at the Most Trending Trends. In Part Two we'll discuss 5 major tragedies that affected the lives of millions around the globe. See Part One: Most Viral Trends, here.
Twitter moves pretty fast. It's a world that measures time in seconds versus hours. There are over 500 million tweets sent from around the world every day. Because Twitter has become such a major source for global news and conversation, we have pulled weekly Twitter trends for the past 100 weeks to discover what the world is talking about. These trends highlight the top terms and hashtags from the previous week, and reveal topics that people all over the world are interested in.
100 weeks of trends means a lot of news. We figured what better way to celebrate this occasion than by finding the most popular trends of all 100 weeks. While doing the research behind this project, I was reminded of the many amazing things (both good and bad) happened over the past two years. In the second part of this series, we'll be discussing the tragedies that we saw reflected on social media.
In October 2012, one of these events had a serious impact on me, as well as millions of people across Eastern North America. I grew up in New Jersey, a place where people are all too familiar with floods, storms and hurricanes – however no one could have prepared for Sandy. Only a month prior to the storm, I had moved to Vancouver after living and going to school on the coast of New Jersey.  The night the storm made landfall, I watched Facebook, Twitter and Instagram religiously to see how my family and friends were doing- were they being evacuated, were they in trouble… were they all alive? I watched along on social media as my friends posted heartbreaking statuses, fearing for their lives.
After the storm passed, I couldn't stop checking my social media networks, watching for pictures and videos of where I had grown up being completely destroyed. The house I lived in during college was completely gone; Atlantic City, where I spent my Friday and Saturday nights, was completely underwater. I sat, 3000 miles away, and watched as my friends and family began picking up the pieces of their destroyed houses and lives.
Luckily, my friends and family were all safe, although they wouldn't have electricity or (in some cases) running water for up to a week. I was one of millions who felt their hearts breaking while watching their social feeds. Social media has enabled us to better express an essential human impulse toward empathy and connecting with other people in crisis.
This is only one account of how social media has affected a life, reflecting a 100 weeks of trends, we've seen millions responding to a number of global tragedies:
Earthquake in Japan
In March 2011, an 8.9 earthquake and ensuing tsunami rocked Japan, leaving more than a thousand dead, and many more homeless. Waves absolutely demolished buildings, causing blackouts and cutting off communication between families. While this was happening, Twitter users flocked to the social networking site to share news, hear updates from friends and family, and ultimately to send one message: Japan was not alone.
Twitter claims that the "volume of Tweets sent per second spiked to more than 5,000 TPS [Tweets per second] five separate times after the quake and ensuing tsunami." They go on to explain,
"Whether across the world or across the street, Twitter — and more broadly, technology — allows people to view the world through each other's eyes. As a result, we are able to share information and communicate more easily than any time in our past, bringing the world closer."
Take a look at a Twitter made video explaining the amount of volume seen around Tweets, replies and retweets going on around the times of the earthquake.

The Passing of Steve Jobs
The passing of Apple co-founder and CEO converted Twitter into a medium for over a million people to voice their grief. Less than 5 hours after Apple had announced that Steve Jobs had passed away, Twitter had already seen nearly 1.5 million Tweets containing his name.
In the greatest response Twitter had ever seen to the death of a celebrity, SR7, a social media monitoring firm, had estimated that Twitter saw about 10,000 Tweets per second. Many of those Tweets included hashtags like #iSad and #ThankYouSteve, bringing Steve Jobs to the top of the Trending Lists once again.
RIP Steve Jobs. You left your mark on our desks, on our ears & in our hands.

— darren rovell (@darrenrovell) October 5, 2011
I never thought I could be so busted up about the loss of someone I never met. #stevejobs

— ashton kutcher (@aplusk) October 6, 2011
 Hurricane Sandy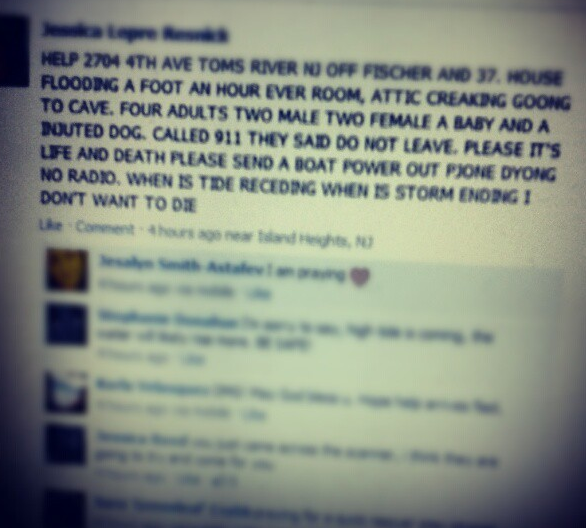 Social media users knew that social media (and more importantly, mobile social media) was going to be key communication channels as Hurricane Sandy made it's way towards the eastern coast of the United States. More than 20 million Tweets were sent containing the words or hashtags Sandy and hurricane between October 27 and November 1 2012 as people braced for the storm to hit and waited until it was safe to leave their houses to survey the damage. By October 29, storm-related search requests made up 20% of all searches on Twitter. On November 2, a day after the storm had passed, Twitter sent out a number of Tweets to release what ended up being a press release on data from the days before, during and immediately after the storm. This is one situation where social media was not only a lifeline to those in an emergency, but also allowed family and friends to contact one another, allowed local and state governments to relay news, and to share the heartbreaking images of the power of nature.
What if Gangnam Style was actually a giant rain dance and we've brought this on ourselves? #sandy — Francis Boulle (@FrancisBoulle) October 29, 2012
Boston Marathon Bombing
Police react in aftermath of explosion #bostonmarathon #boylstonst (John Tlumacki photo) pic.twitter.com/pfgPjcPZAZ

— Boston Globe Sports (@BGlobeSports) April 15, 2013
In an age of instant communication, Twitter became the world's stage as traffic to the network spiked minutes after the deadly Boston Marathon explosions. Two pressure cooker bombs exploded during the Boston Marathon on April 15 2013. Both bombs exploded near the finish line of the marathon, killing 3 people and injuring an estimated 264 others. Moments after the bombs went off, people rushed to Twitter for real-time information on fatalities and injuries. The social network was the first to break the news of the explosions and casualties as users posted firsthand accounts and photos. Police reached out on social media, sharing pictures of the then suspect, asking for any known information. This type of "crowdsourcing" revolutionized how police can use social media; in this situation the millions of people who saw photos of the suspects were as much on the look out as the Boston Police Department. This left the suspects with no where to hide. While many of the messages on social media were of sadness, grief and fear… there were also numerous examples of people and communities coming together to respond and help. For many, it was simply sharing informational tweets from the Boston Police. For others, it involved sharing the phone numbers and addresses of local blood banks where they could go donate. For an inspiring number of others, it was about opening up their homes to anyone in the area who may have been in need of shelter.
Do you know these individuals? Contact boston@ic.fbi.gov or 1-800-CALL-FBI (1-800-225-5324), prompt #3 pic.twitter.com/QJias1Kywe — Boston Police Dept. (@bostonpolice) April 18, 2013
The Passing of Nelson Mandela
The anti-apartheid icon and Nobel Peace Prize winner was mourned globally after his passing on December 5, 2013 at the age of 95. "He is now resting. He is now at peace," said South African President Jacob Zuma. He went on to say "Our nation has lost its greatest son. Our people have lost a father." Mandela spent his life fighting for equality in South Africa, and later became the country's first black president after spending 27 years in prison. People around the world connected with his spirit and his message spread across the globe. Madiba became a symbol of hope to others who faced struggles and searched for justice. The outpouring of grief and condolences from world leaders, politicians, diplomats and millions of others around the world could be seen across social media networks. While flags around the globe were all put to half mast, many took to Twitter to show their respect, admiration, appreciation and grief. Here are some of those reactions:
Rest in Peace Nelson Mandela. We will never forget the role you played in our country, in our sport, and for that we are eternally grateful. — South African Rugby (@bokrugby) December 5, 2013
Rest in peace, Nelson Mandela. pic.twitter.com/4qlqsXLp6e

— The White House (@WhiteHouse) December 5, 2013
A hero is someone who has given his life for something bigger than oneself…The world lost a hero, Africa lost a father…RIP Mandela

— yaya toure (@Toure_yaya42) December 5, 2013
Schoolchildren hold candles and portraits of Mandela during a prayer ceremony in India #RIPNelsonMandela pic.twitter.com/eaobLUzS9Z — Reuters Africa (@ReutersAfrica) December 6, 2013
Keep an eye out next week, when we will be releasing Part 3 of our 100 Weeks of Trends. In part two we'll discuss some of the biggest world events that have happened since 2011, and how the world responded via social media.