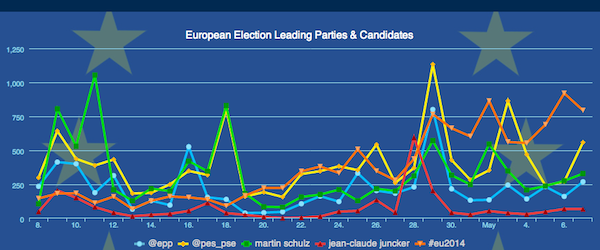 The 2014 EU Election Tracker: Follow the Social Media Conversation
For the last several years the European Union has been dealing with Eurozone Crisis, which saw failing economies in Spain, Greece, Ireland, Italy, Cyprus and Portugal. Later this month, members of the EU will vote for their new parliamentary leaders. With these issues top-of-mind, these elections could represent a significant turning point for the European economy.
With so much at stake, the EU elections are being widely discussed across the continent, and the world. Much of that conversation is taking place on social media, where the parties and their platforms are being debated, analyzed, promoted and questioned by thousands of people every day.
Every country in Europe has its own priorities and agenda and, with 13 parties and various large alliances, the EU parliamentary elections are quite complicated. To help you keep up with all the social media conversation, we've created the 2014 EU Election Tracker.
Rather than try and paint a complete picture of such a complex election, the EU Election Tracker monitors English language posts across Europe and concisely presents:
Twitter mentions of the leading parties
Twitter mentions of the two leading candidates
Latest Tweets from the leading parties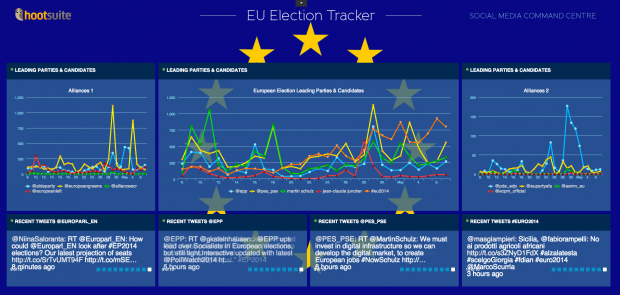 The leading parties, the European people's party (@EPP) and the Party of European Socialists (@PES_PSE) are neck-and-neck when it comes to social media mentions, but other parties are clearly making an impact of their own. Spikes in social media mentions for the European Left (@europeanleft) and the European Greens (@europeangreens), as well as recent local election successes by the far right parties, show that this race isn't quite secure.
Follow the parties in the social media spotlight and see which of their Tweets are gaining traction. Check out the EU Election tracker right now.