3 Ways Social Media Command Centers Improve Newsrooms, Part 3: Elections
Four more years. pic.twitter.com/bAJE6Vom

— Barack Obama (@BarackObama) November 7, 2012
For elections, social media has opened up conversations between the public, political parties, news sources and even the politicians themselves, ending an era of "no politics at the table." From campaign updates to debate discussions, parties can easily distribute their message to the public. But are newsrooms effectively listening to these conversations and leveraging social media's wealth of content? That depends on how they've set up their social media management.
The following is an excerpt from the white paper "3 Ways Social Media Command Centers Improve Newsrooms," which highlights scenarios where newsrooms can enhance their effectiveness by capitalizing on the wealth of social data with a social media command center.
In this portion, discover how newsrooms can visualize entire political campaigns and perhaps even predict an election's outcome with social media command centers. To view the white paper in its entirety, download it below.

Using Social Media Command Centers to Monitor Elections
With the speed of communication and number of people involved, social media has changed political elections and campaigning forever. During national elections, social plays a fundamental role in the political dialogue leading up to elections, ongoing discussions and analysis of parties and their leaders. Tracking party performance, monitoring public sentiment around party issues, especially before and after debates, monitoring campaigns and predicting outcomes can be difficult.
With social media command centers, each individual module offers a snippet of valuable data related to the election. All together, this visualized data provides a comprehensive indication of any voter shifts, controversy and political success or failure as it is discussed on social.
According to Twitter, 31.7 million Tweets went out during the 2012 U.S. Elections. As the results of the election were announced, Twitter conversations hit a peak of 327,452 Tweets per minute. But before addressing the nation onstage, President Obama shared his win in a now infamous Tweet captioned: "Four more years."
Political Social Campaign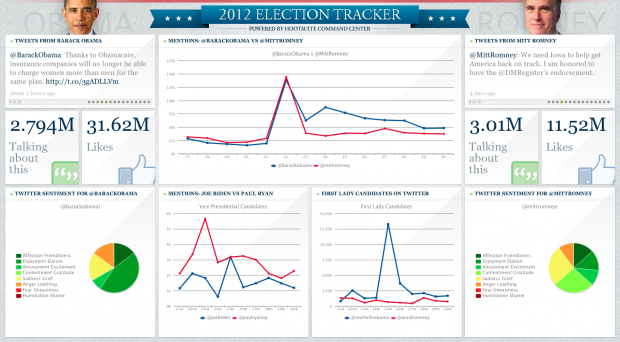 Creating an effective social media strategy for political campaigns has become an essential part of every candidate's plan to get into office. Social channels are often getting more campaign traffic than the official websites themselves. And as political candidates put more emphasis on social, the public relies more on these channels for party and campaign information and updates.
Predicting Elections and Tracking Public Sentiment around Issues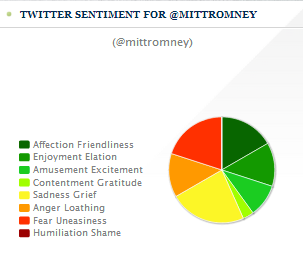 During several national elections, like the U.S. 2012 Election and Australia's 2013 Election, HootSuite launched social media command centers to monitor conversations. Tracking candidate and party performance with trending hashtags, analytics of mentions, Facebook like-comparisons and ever-changing sentiment charts, provided an interesting indicator of the campaign results. Likewise, visualizing how many mentions one party leader had over the other and how positive or negative the Twitter sentiment has helped us predict leading party candidates.
Monitoring voter sentiment provides an important glimpse into the opinions and feelings of voters. During campaigning, if a candidate is caught in a scandal or debauches a controversial debate, newsrooms can monitor real-time public sentiment changes as shock-waves ripple across the Twittersphere.
Stay tuned for how social media command centers can be used to monitor crises.
Ready to learn more? Download "3 Ways Social Media Command Centers Improve Newsrooms" now.