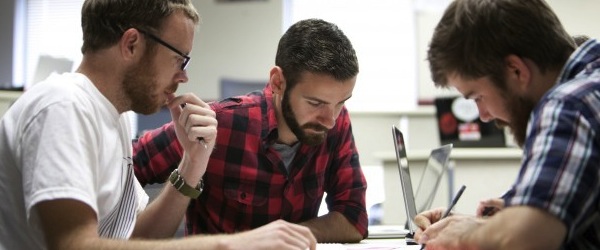 5 Social Media Facts Every Marketing Professor Should Know
In the modern business, marketing is far ahead of most other departments when it comes to social media use. That being said, many higher education marketing programs are still playing catch-up, with social media being added to courseware as an afterthought rather than building courses around this powerful new technology.
Fully preparing marketing students to enter the industry should now involve a much more comprehensive social media education. With that in mind, in 2013 HootSuite University launched the Social Media for Marketing Curriculum, a resource that covers everything from social media advertising to engaging your online community.
The ways in which marketing departments are using social media are complex and varied, so simply touching on social media in courses isn't enough. If you're still not convinced that social media should be a core part of marketing programs, here are 5 facts that might change your mind:
1) 93% of Marketers use Social Media for Business
When only 7% of marketers say they don't use social media for business, it leaves little doubt to the importance of social media skills for those joining the field.
Of the 93% of marketers using social media, most didn't learn about social media in school. They were forced to adapt and pick up these skills, while learning how to fit social networks into their marketing strategies. Students who have already developed these skills would have a huge advantage when entering the market.
2) Businesses are Drastically Increasing Their Social Media Budgets
A recent survey of CMOs showed that social media's share of the marketing budget is expected to double in the next five years. And that increase isn't segmented into a specific area either; it applies to business-to-business and business-to-consumer services and products, four areas where social media spending will rise from under 10 per cent to over 20 per cent of the marketing budget in the next half decade.
The old saying "follow the money" should apply to marketing education programs. They should be focused on preparing students for new marketing techniques as much as (probably more than) established areas of marketing for which the share of the budget is decreasing year after year.
3) Advertising is Moving Online
One area where marketing budgets are dropping, and fast? Print advertising. Last year, internet advertising surpassed newspaper advertising spending for the first time. That trend will probably continue forever.
In 2013, Internet advertising expenditures surpassed newspaper ad spending for the first time, accounting for 21% of all advertising dollars. While social media represents only a portion of internet advertising, spending on social media ads is expected to exceed $11 billion by 2017.
4) Marketing Departments are Hiring Based on Social Media Ability
Ultimately, we go to school to better prepare us for our careers. With job postings involving social media having grown 1,357% on LinkedIn since 2010, developing social media skills seems like a clear career move.
Among job titles related to social media, "social media marketing" is the second most common. Social media manager, which came out on top, and many other titles involving social media will often fall into marketing departments as well.
"I've had several students tell me that being able to communicate to potential employers that they were HootSuite Certified really helped them in their interview. They were able to show that they weren't just learning theory, but were actually getting experience with social media management," says David Altounian, Professor at St. Edward's University. Altounian teaches social media in his marketing classes with HootSuite University's Higher Education Program.
It's clear that today's employers are expecting new marketing hires to have social media skills. Educating marketing students on social media not only prepares them to enter the modern marketing department, it gives them an advantage over long-time marketers that are less knowledgeable about the technologies.
5) The Fastest-Growing Age Group on Twitter is 55-to-64 Year-Olds
Social media is mostly a young person's domain, and young people don't spend money… right? Actually, the 45-54 age bracket is the fastest-growing group on both Facebook and Google+. And on Twitter, often thought to be void of parents, the fastest-growing age group is 55-to-64 year-olds, up 79% since 2012.
The reality is that social media is a tool for all age groups. As such, it is no longer viable for any business to ignore social media, regardless of the demographics of their customers. For universities, that makes social media education essential. Business students need to be taught the digital skills required in today's workforce.
HootSuite University's Social Media for Marketing Curriculum includes assigned readings, videos, and homework built around a class project where students apply principles learned in class to hands-on marketing experience with a real-world client of their choosing.
HootSuite University's Higher Education Program is currently being used in over 300 global institutions including Columbia, NYU, and Syracuse University.
Are you a professor looking to teach social media in your classroom? Apply to HootSuite's Higher Education Program and gain access to free teaching resources and tools, ensuring your graduates are fully prepared for their future jobs.