5 Time-Saving Tips for HootSuite Power Users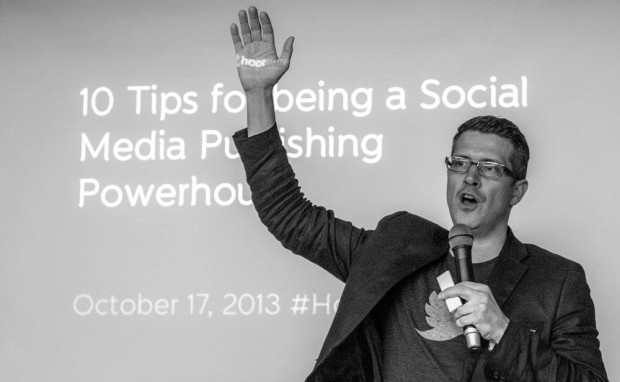 I recently gave a talk at one of our Hootup events entitled "10 Tips for being a Social Media Publishing Powerhouse." At the end of my slides, I did a demo of 5 time-saving "hacks" for HootSuite power users.
The response to the tips was so positive, that I thought I would share them here in a post. Need to save time? Here are 5 ways to save precious clicks and precious seconds.
1. Drag and Drop
Like the headline suggests, this one is easy-peasy. Simply drag and drop a user's avatar from within your dashboard into the "Compose" window, and their Twitter handle will auto-populate.
Bonus tip: Drop that avatar on top of a HootSuite Stream that contains a Twitter List, and that user will automatically be added to the list. A few more words about creating lists can be found here.
2. One-click Scheduling
Do you often schedule Tweets or other social messages? Did you know that there's a way to choose your date and time with one click?
Navigate to the Publisher view (the little paper airplane in the left sidebar) and select the "Week" view from the buttons on the top left. Then, just click the time of your choice on the day of your choice, and all the scheduling details will be filled out (a savings of 7 clicks!)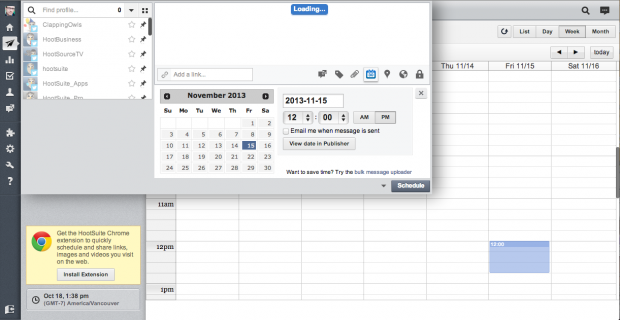 3. Track Your Shares in a Stream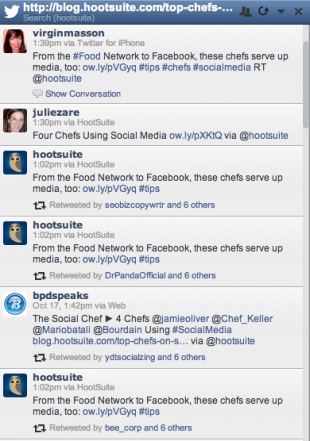 Want to know who shared your article, and be at the ready to say thanks? Create a search Stream in HootSuite, and make your brand new blog posts' URL as the search term. The Stream will show you all of the social messages that contain your link, beyond just Retweets of your own messages.
4. Use Bulk Scheduling
Have you tried the Bulk Scheduling option for Tweets? Create a spreadsheet of your choice Tweets, and upload them to the Scheduler all at once (Click "Try the bulk message uploader" in the bottom right of the Scheduling options for step-by-stap instructions).
This move really pays off the NEXT time you do it; simply change out the messages to test new versions, and make a few adjustments to the dates to try multiple variations of tweets in large quantities.

5. Add an App, Get a Tab
Have your tried one of the 60+ free apps within HootSuite? Not only do you get access to some of the web's most popular apps, and bring more of your social media into one convenient center, but you also get another Tab in your dashboard. Use it to assign the first few Streams to the app you added, but you'll still have plenty of Streams available for more search terms, lists, apps, etc. Users of the free product will especially like this tip, as it means that they can work around the usual restrictions on Tabs and Streams.
Need some ideas for apps to add? How about Instagram, YouTube,  or reddit?
Got a time saving hack or secret HootSuite feature that we haven't publicized? Let us know about it, and we'll add it to this post.