When it comes to marketing, it seems everything has already been done. But that's not such a bad thing as it also means there are tried and true methods to ensure your strategy is on point.
Indeed, there are many ways to create a fun marketing campaign that will engage your consumers and create the results you want. Here are six surprising tactics that have actually worked.
1. Free transit for empty beer cans
During the Carnival in Rio de Janeiro, Antarctica Beer installed custom turnstiles that allowed people to "pay" for public transit using their empty beer cans.
During the campaign, the transit system saw an 85 percent uptick in traffic and recycling donations skyrocketed.
One of the best ways to get attention is by doing something unusual that centers on social responsibility. This campaign gave transit riders the opportunity to do something that made them feel good—and it was unusual enough for people to want to talk about.
2. Long-distance toy train travel
Many companies have realized the reach that going viral can give them and their marketing efforts.
One campaign involved a fan group of toy maker Estrela's toy train brandFerrorama that organized an effort to have a toy train travel 12.4 miles with 360 feet of track. According to AllBusiness editors, the event was a huge success, highlighted by the fact that there were 600,000 YouTube views and that it became a Brazilian Twitter Trending Topic three times.
The lesson here is to think outside the box and do something unusual, because oddities can capture people's attention.
3. Spam and sock giveaway
It's been said that the easiest way to a man's heart is through his stomach. Building off that, one way to grow your business is through a consumer's stomach.
Paubox, a provider of HIPAA compliant email encryption moved to San Francisco from Hawaii. To celebrate their 100th customer they gave away spam musubis, a favorite Hawaiian snack, and 100 pairs of socks on the streets of San Francisco.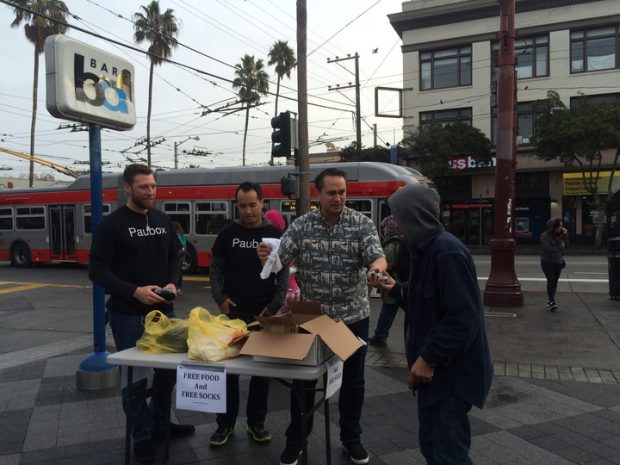 "Since holding our spam musubi giveaway four months ago, we've been fortunate to double our customer base to over 200 customers in 39 states, plus Guam," reports Hoala Greevy, the company's CEO.
This campaign really worked because the prize was unusual and connected with the brand in a fun way.
4. Restaurant adopts "pay-by poker" model
London restaurant Jones & Sons teamed up with international poker website Pokerstars to create a fun way to decide how much customers would pay for their meal. Event magazine said diners played three hands of the card game, and their final chip count determined how much they paid for each meal or if they received it for free.
The local event was aligned with the much larger 2015 U.K. and Ireland Poker Tour. Making the connection to a larger even allowed Jones & Sons to leverage the recognition of that event in order to get more customers. Plus, teaming up with a big, recognizable brand didn't hurt.
5. A suit made of meat
Brian Levin, the mastermind behind Perky Jerky, created "Jerk Man Suit" a 30-pound costume made from velcro and 400 bags of Perky Jerky—only $350. The suit help build brand awareness and in just four years Perky Jerky became available in 40,000 stores.
It was a clever spin on the traditional brand mascot—one that gave any fan of the brand the opportunity to don the suit and show off their loyalty.
6. Cameras in change rooms (but not in a creepy way)
One way to get consumers to share your product is to create an environment that not only has the technology to easily share with social media, but it also encourages consumers to share immediately.
Each changing room in the Karl Lagerfeld Store in Amsterdam has a touch screen and a camera, which enables shoppers to take pictures of what they are trying on, and then it helps them share it on Facebook, Twitter or through email.
This approach leveraged something that many shoppers do frequently (taking selfies with new clothes) and made the process even simpler—and more fun. It was a great way to engage customers in a memorable way.
Creative and fun marketing campaigns can be a great way to increase engagement with consumers, as these campaigns show. Brainstorm and try out an innovative campaign of your own—you might be surprised at the results.
Schedule and manage your campaigns (unusual or otherwise) with Hootsuite. Try it free today!