8 Social Media Tips for Financial Services ~ White Paper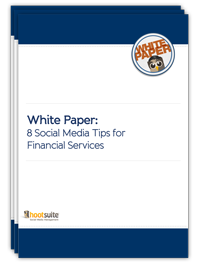 Is your financial services organization using social media to boost its bottom line?
HootSuite's white paper, 8 Social Media Tips for Financial Services, outlines the steps your organization can take right now to advance itself to the next stage of social maturity — while staying compliant and secure.

In this white paper, you'll discover the advantages of:
Evaluating your FSI firm's existing social programs and taking stock of their business impact.
Getting your organization's social media assets under control so that you can scale up with confidence.
Educating your workforce in social media to ensure compliance and a strong brand identity.
Listening methodically to your customers, and distributing their feedback to the right people in your organization.
Delivering affordable and effective customer care through social media channels.
Collaborating internally to unlock the power of your FSI organization's brain trust.
Measuring the efficacy of your social media marketing, and building on your successes.
The financial services industry has trailed behind other sectors in social media, but in 2013 the industry is poised to make a leap forward. Recently, the Federal Financial Institutions Examination Council (FFIEC) released proposed guidance for social media activities by financial institutions, eliminating much of the uncertainty that surrounded regulatory compliance.
With a better understanding of the risks of social media, FSI organizations can deploy the technology and best practices to deal with them. And with the rewards of social media more quantifiable than ever before, it's time for your firm to move to the next stage of social maturity.
Download 8 Social Media Tips for Financial Services to find out which steps will get you there.