All Aboard #Amtrak! Memoirs From Day One Of #HootTrak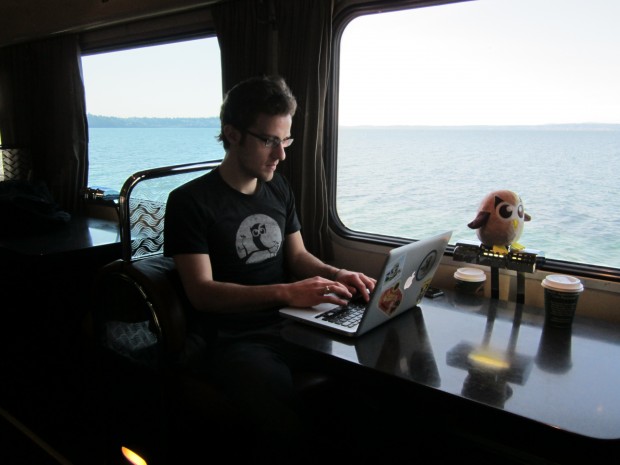 6:40 am, and we're off! To my chagrin, they don't actually say "all aboard!" Nonetheless, my Amtrak train steams south towards the Canada-US border. I found my seat in car 7, sat down, and settled in amongst a couple of other raccoon-eyed travellers.
Incase you missed the kick off blog post, this is the first installment in a series of posts I'll be writing to document my unconventional journey from Vancouver to SXSW in Austin, Texas aboard one of Amtrak's fine trains. I'm commuting to Austin, but also working to tell the story of the 'trak' less travelled.

So far, two of train travel's greatest qualities have stood out to me. The first is that it is scenic to the core, and the second completely endearing quality is that the PA system is taking me back in time to my elementary school days.
Earlier today the speakers crackled alive with Planet Earth-worthy commentary:
"If you look out the right window, you'll notice a lot of bald eagles, young and old. You can tell them apart because young eagles have their 'caps' on backwards and their pants around their ankles."
Owl aboard Amtrak
The train rattles along the tracks, swaying from side to side as I fire off a few emails and plan out my evening in Portland. After getting restless, I go exploring. It's about 8am now and I haven't had a sip of coffee yet. I'm honestly surprised that I've lasted this long.
I cruise through all the train cars to get my bearings and end up in the cafeteria. It's coffee time!
After grabbing my brew, I survey the cafe for a seat. All the tables are taken, but something amazing happens. A man in a black baseball cap offers to share his table. Done!

Meet Barry, he was one of the first 500 Apple employees
Barry and I got along swimmingly. He's a former Apple programmer – starting in 1980,  if you can believe it, and he wrote software for The Apple II and Apple III. Self-described as 'countryless', he's lived in Washington and now resides in Gibsons on B.C.'s Sunshine Coast.
Now a photographer by trade, he's also a former writer of eight (fact checked) books on Adobe Photoshop and is teaching himself .php to build a new website.
We chatted, exchanged stories and I even set him up with a HootSuite account to promote his website before he hopped off in Seattle.

Stop mops and photo-ops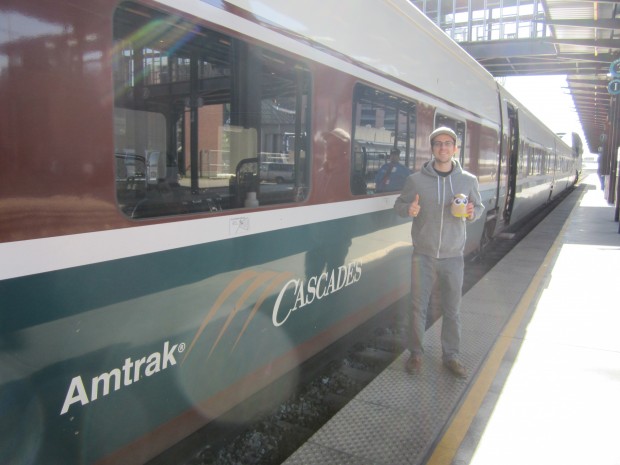 The train stops about half a dozen times on the way down, dropping off some folks while picking up others. One such stop was Seattle, and I figured it'd be a perfect chance to stretch my legs and snap a few pics with my plush Owly friend.
I was met by Michelle, the conductor. Sporting a terrific smile, we got to talking, and I realized that it was her heavenly voice serenading us train-goers over the PA. She was mad friendly and even took a photo of me posing at the Seattle King St. train station.

Meet Dave and Jenn – promoters on vacation
After Seattle, I retreated back to my seat. A couple from Bellingham were now in my foursome. We got to talking seamlessly. The whole while, I kept thinking to myself: "why is everyone so nice on the train?"
So here I am chatting to this couple about my crazy Amtrak journey to SXSW. I find out Dave promotes music events at a few venues, while Jenn works for a rival nightclub… very Romeo and Juliet of them.
Dave also showed me a killer card trick which I totally plan to use to woo the people of Austin when I get down there.

Onward and upward ~ #HootUpPortland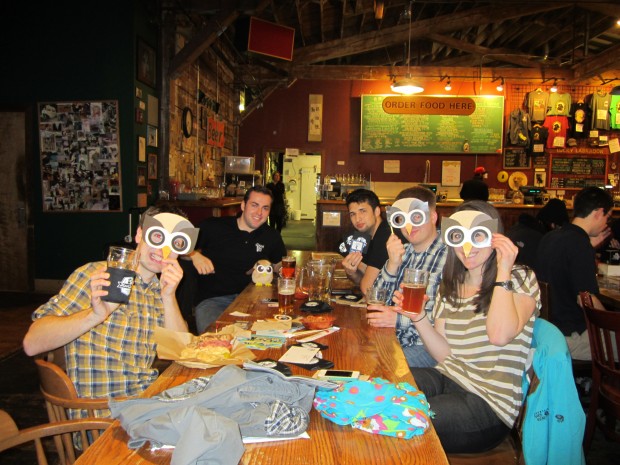 Aside from a few unexpected stops, the trip was amazing. I was working the whole time while meeting some amazing and interesting folks.
#HootUpPortland was a blast! Despite having to hustle from the train station directly to the event, I really enjoyed meeting new friends and chatting about social and digital over some of Portland's tastiest ales. Lucky for me, I got the dress code right – plaid shirts all around, however, my pouring technique leaved a bit to be desired. And my company definitely let me know it.
Long day, and on the Los Angeles tomorrow.
-Owl out . See you on the traks.
Your turn,
What's your best train story?