AP Hack Illustrates Real Consequences of Poor Social Media Security
When Burger King's Twitter account was hacked and tweeted that the fast food restaurant had been purchased by McDonalds, the consequences were limited to some short-lived, negative PR for the brand.
When government officials of a Japanese city accidentally tweeted that North Korea had launched a missile, the consequences could have been disastrous. Thankfully, the tweet's impact was limited and, aside from causing unnecessary fear, had no direct political implications.
But when the Twitter account of the Associated Press news agency was hacked on April 23rd, the potential negative consequences all came to fruition.
The AP Hack: Bad for Page Views, Followers and Trust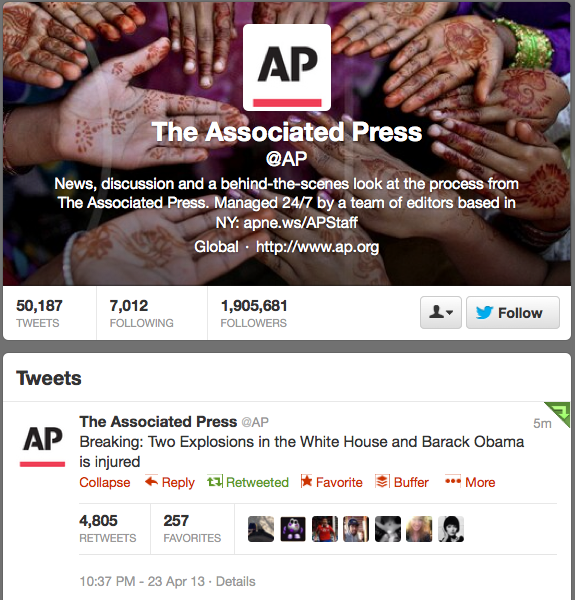 "Breaking: Two Explosions in the White House and Barack Obama is injured," is the sickening false tweet sent from the @AP account that, despite being deleted and confirmed to be false shortly thereafter, racked up thousands of retweets in just a few minutes.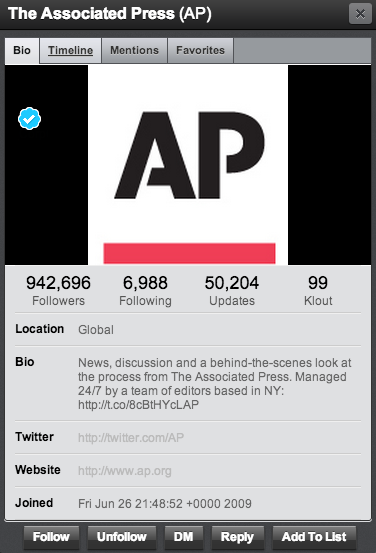 For the Associated Press, the hacking took an immediate toll in several ways. First, the @AP account was quickly suspended by Twitter. The suspension prevented further false tweets from being disseminated, a positive to be sure. But for a major news agency, the loss of a social media account with close to 2 million followers, undoubtedly one of its primary sources of article views and shares, for close to 24 hours is a serious blow.
This loss was further bolstered by the fact that it takes time for a suspended Twitter account to regain all of its followers. While before the hack the @AP account had over 1.9 million followers, when the account was reinstated a day later it had less than 100,000. A few hours later that number had grown to around 500,000. While the account will likely regain its nearly 2 million followers, each hour that passes represents further losses in article views and shares.
For the press, reputation and reliability is everything. Every time a news agency reports something false, it risks losing that public trust. So more than page views, when the @AP account sent out a false tweet about an attack on the White House, the resulting loss of trust is a significant consequence for the organization. Every tweet from the account may now be looked at with doubt by users who were duped, a consequence that cannot be understated.
The Stock Market Reacts to the Mistweet
The effects of the hack were not limited to the Associated Press itself. After the tweet was sent out, the Dow Jones fell 143 points before recovering a few minutes later. Though the recovery was prompt, the drop illustrated how intertwined Wall Street and global stock markets have become with social media information. With the advent of computerized trading, and social media information increasingly being used by investors, mistweets now have the potential to cause harm that extends outside of your business and even your country.

What the AP Hack Teaches Brands
The @AP hack is a powerful illustration of the potential loss of views or conversions, loss of trust and real-world consequences that poor social media security can cause. Since social media is now an essential part of business, brands can no longer take these channels for granted, and securing corporate social media accounts is a must.
Thankfully there are ways to reduce social media risks. The use of a social media management system like HootSuite can dramatically decrease the likelihood of hacks or other security issues. Coupled with proper social media training, these tools should keep your social media accounts securely in your hands.
For information on how to improve your social media security, read "7 Ways to Hack-Proof Your Company's Social Media" by HootSuite's CEO Ryan Holmes. A guide to using HootSuite's security features can be found here.
Click here to learn more about HootSuite Enterprise or request a demo.