Over 160 million people a day use Snapchat to send or view videos, photos, and messages. That makes it one of the most popular social networks, especially with millennials.
These and other users love Snapchat's immediacy and sense of fun. It's easy to share and comment on rough and ready, snack-sized pieces of content—or Snaps—with groups of friends throughout the day. Snapchatters can also discover content and Stories from their favorite brands.
And marketers? Some brands have been doing some pretty interesting things on Snapchat.
Want to do more with Snapchat? The good news is that if you want to get as many of those 160 million pairs of eyeballs to swivel in your direction and open wide, there are plenty of tools and apps for Snapchat out there. (If you're wondering, there are no integrated Snapchat third-party apps. The platform doesn't allow them.)
Here's our list of the best apps for Snapchat marketers to keep an eye on or give a try. We've grouped our apps into categories that reflect what marketers are most interested in.
By the way, if you want a primer about using Snapchat in business, have a read of our guide to Snapchat. And here are some Snapchat hacks to add to your toolbox.
Bonus: Download a free guide that reveals how to easily create and use a custom Snapchat geofilter to promote your business for as little as $5.
The best Snapchat apps
Snapchat discovery apps
An App Store-style discovery tool
One of the trickier things about using Snapchat is finding people to follow (and getting people to follow your account).
GhostCodes to the rescue. It's possibly the easiest way to find influencers and other accounts to follow.
Search for Snapchatters by over 40 categories—from "comedians" to "college life" and from "foodies" to "fitness." Click on a category and you get a list of the most popular Snapchatters in that category. Except they call them "Ghosties."
Geofilter creation app
Create custom geofilters in minutes
Everyone loves Snapchat's geofilters. It's a neat way to do some location-based marketing or add a flourish to your content. For example, you can promote that you are in a particular location for an event, or ask followers to enter a contest by sharing photos containing a custom geofilter you created.
PepperFilters is a marketplace for Snapchat geofilters. You can design a unique geofilter using their range of backgrounds and templates, graphics, and text effects.
Promote your account app
It's a Snapchat button and it's unofficial
Make it easy to create a Snapchat button for your website so people can follow you. This handy website lets you create a button and generate code to paste into your website.
Caption idea generator
A tool that generates ideas for social media captions. Captiona is basically a search engine for social media captions. Simply enter a keyword that relates to the content of your Snap, and the app will generate a list of suggestions.
We recommend using the tool to get your creative juices flowing. Play off the suggestions, but don't copy them verbatim. Aim for originality.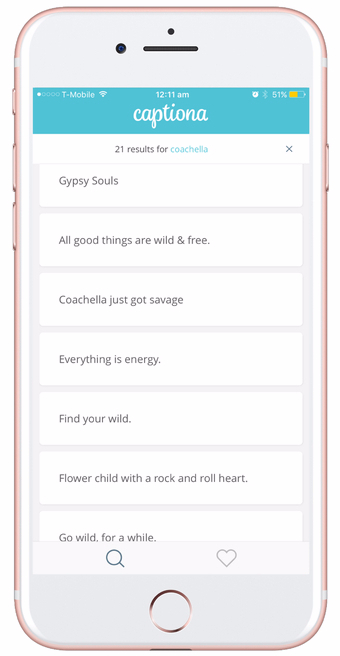 Hootsuite's on Snapchat! Click this link on mobile to go directly to Hootsuite's profile or scan the Snapcode below to add Hootsuite as a Friend on Snapchat.