What do Happy Clouds, the Fail Whale and a Helpful Octopus Have in Common?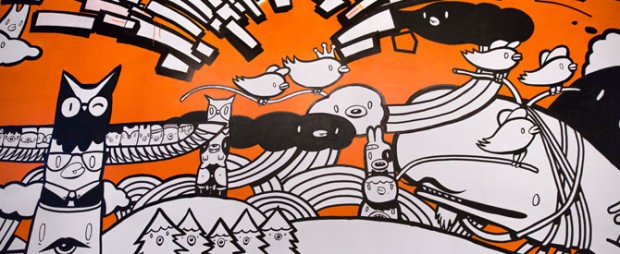 When people think 'West Coast', most would think of our island paradises, sprawling rainforests, and high peaked mountains. For those of us who call it home, what we see are opportunities. Opportunity to take our bikes up into the alpine and go mountain biking; jump onto a chairlift and find some fresh powder; or head out to the ocean to catch some great waves (all in one day, if you're so inclined). It's this energy that makes the West Coast what it is, and inspired artists Carson Ting (of Chairman Ting) and Mike Nowland (of Company Policy) to put some killer art up on HootSuite's reception area wall.
A Tie Between Homes
In November 2009, Carson and Mike were commissioned to do a mural at the Invoke Media office (founder of HootSuite, and later home to HootSuite's HQ). This mural was bright, fun and full of energy.  Now that we have moved our nest across town, we at HootSuite knew we needed more of Carson and Mike's art on our walls.
"The idea of the mural came very quickly actually. We knew we wanted to bring back some of the goodness from the original mural that Mike and I did a few years ago and we also knew that the mural had to emanate an aura of positive west coast energy." -Carson
A Fail Whale? A Happy Cloud?
In the new mural, Carson and Mike knew they were going to start off with bringing back a few key elements from the original. The fail whale, twitter birds, happy clouds, flying bits and, of course, the helpful octopus are all featured in both murals and act as a perfect tie between the old and new offices (see images of both on Carson's Flickr Stream).
One new element which makes a difference in this mural are the hybrid totem poles. Featuring all kinds of different animals, the tops of the totems are owls (could anything else be at the top?), and many are dressed as we would be- in business attire, or a pair of thick-framed Buddy Holly glasses.
It Wasn't Easy
"We're not sure if we jinxed it by telling our friends we'd finish the wall in a day, but we ended up painting three murals on the same wall through countless all nighters and layered slabs of paint to finish the job." – Carson
This mural took Carson and Mike a lot longer than they expected. After a couple of restarts, and a recalibration of both Mike and Carson's approaches, the mural came together.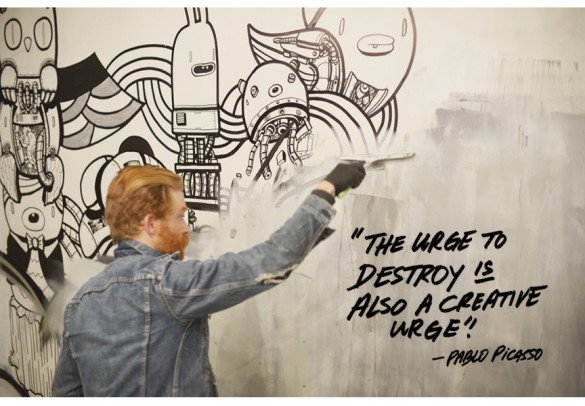 After that journey, the ability to capture HootSuite as a business and culture was executed in the form of an inspiring, bright-orange permanent fixture (aptly named 'West Coast Orange Crush") on one of our largest blank walls. A piece of art that you could look at time after time and keep finding new and hilarious additions.
Carson was able to sum up the experience, explaining: "I believe everything happens for a reason and the wall would not have arrived to where it is in the end if it wasn't for the long creative journey that we all went through on this project."  Well, Carson and Mike, it was well worth it. A transformed reception area, a modern and exciting work of art, and now a free wallpaper download for everyone!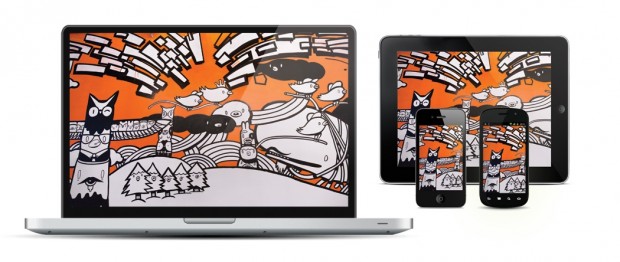 Desktop: 1920×1080 / 1680×1050 / 1280×800
Android: 640×960 / 480×800 / 480×640
A special thank you to Carson Ting and Mike Nowland for creating this fun and energetic piece of art. Your mural has transformed our reception area and will stimulate conversations and inspire creativity going forward.
We'll be adding even more wallpapers to our media page, so make sure to keep checking back for updates! And keep an eye on our blog to see more featured artists, news, updates, tips and more.