Easy Scheduling ~ AutoSchedule in the Dashboard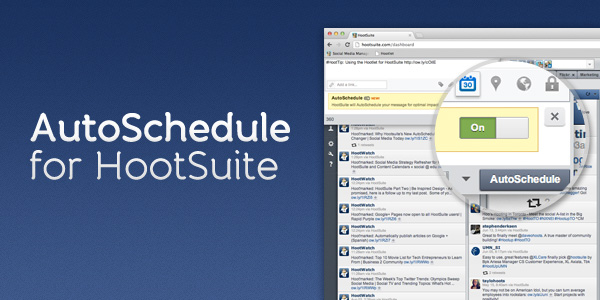 Ask and ye shall receive! After many user requests, Hootlet's AutoSchedule functionality has been extended to the dashboard. Now you can automatically queue messages for optimal times from within the dashboard. Spend more time finding content and less time thinking about scheduling.
Whether you're sharing a webpage, an image, or your own witty musings, AutoSchedule determines the optimal posting times for your favorite social networks. Maximize reach without swamping your followers. Here's what HootSuite CEO, Ryan Holmes had to say about AutoSchedule:
"It's really quite simple – instead of our users manually selecting what time they want to schedule or post their social media messages using our Scheduling feature, they can opt to use our new AutoSchedule technology to optimize and automate the scheduling process. We want our users spending more time finding and sharing content and less time worrying about the best time of day to share it."

Simplify Your Social
After composing your social media message, you have the option to manually schedule, AutoSchedule or send now. Here's how to use AutoSchedule from the dashboard: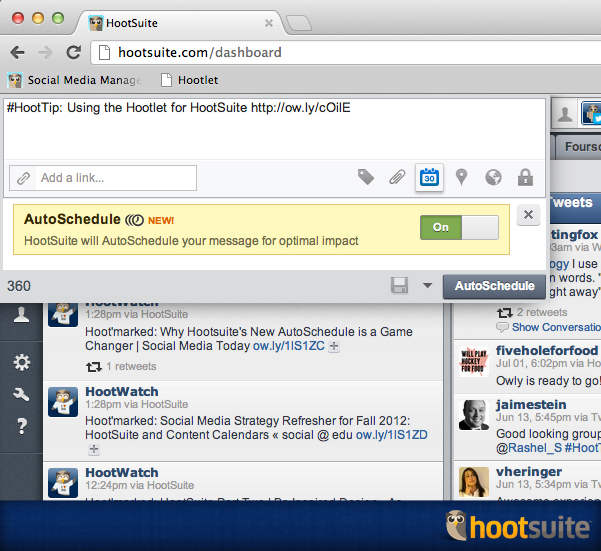 Step 1: After composing your message in the Compose Box, select the Schedule Icon. A drop down menu will then appear.
Step 2: Toggle the AutoSchedule switch to On and then click the AutoSchedule button.
Rest assured, like regular scheduled messages AutoSchedule messages can be viewed and rescheduled at any time. These messages will appear with a Clock Icon next to them in Publisher and can be rescheduled the same way as regular messages. After rescheduling, the Clock Icon will disappear confirming your new scheduled time.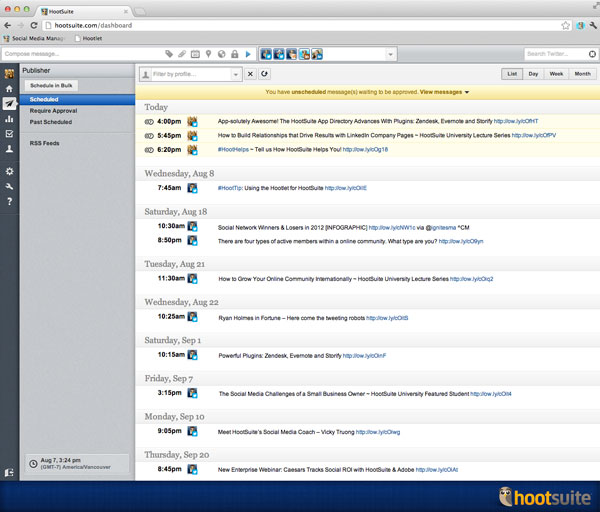 Social Automation
According to Jeremiah Owyang of the Altimeter Group, automation is one of the next steps in social media's evolution. As social media becomes more widely adopted, brands and enterprises will need tools that can scale to their social presence – focusing on the speed and volume of responses as well as effort and cost reduction.
While the thought of robots sending Tweets seems to take the social out of social media, AutoSchedule and other social automation features have a growing place in the world – similar to how ATMs make more sense than Bank Tellers for many occasions. But, as HootSuite VP Marketing Ben Watson warns, social media should never lose the human touch.
We're Listening
Part of HootSuite's growth and success is owed to the helpful suggestions and ideas we receive from our users. We strongly encourage you to share your thoughts with us. Like many of HootSuite's features, we've added AutoSchedule based on your helpful feedback.
What's your next idea? Let us know on our Feedback Channel.

Have any questions about AutoScheduling?