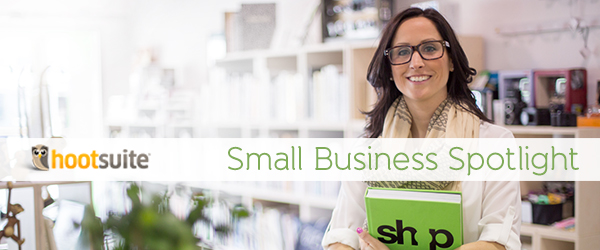 Building Bonds: Baby K'tan Connects with Customers Through Social Media
In support of Small Business Week, HootSuite is hosting a Google Hangout and Twitter Chat today, Thursday, May 15, from 8:00 a.m. to 9:00 a.m. PST. The topic is "Save time and grow your business on social media." Join the discussion using the hashtag #GrowTime, click here for more information.
As the inventors of a series of baby wraps and slings that help parents create strong bonds with their newborns, Baby K'tan has a very personal connection to its customers.  "We have a product that has a lot to do with making sure that mom and baby are happy, and people want to make sure they're using it right," says Tali Zipper, Director of Marketing and Sales at Baby K'tan. "Customer service is huge for us." The ability to personally engage with its audience drew the team at Baby K'tan to social media, which they use as a primary tool for communicating with customers and fans.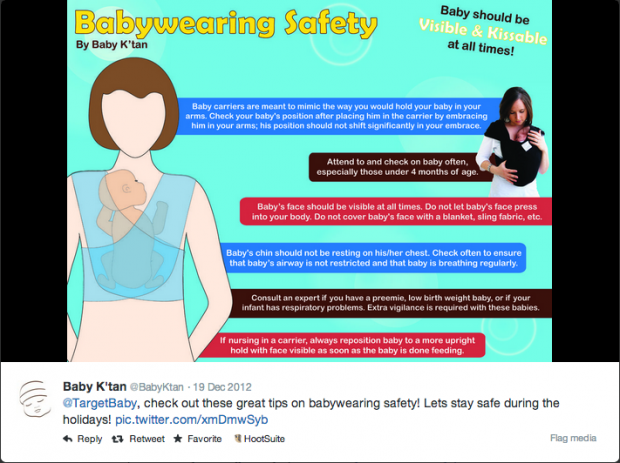 The concept for the company's products came about when Zipper's sister, Michal Chesal, was looking for a way carry her infant son who was born with Down Syndrome. The baby carriers she found at the time, more than ten years ago, didn't support his low muscle tone. They also involved complicated wrapping or buckling that proved challenging while holding a baby. So she created her own ready-to-wear version, with a unique double-loop design that allows parents and caregivers to comfortably carry children in multiple positions, with no complicated set up or adjustments. Chesal used the prototype with her own newborns, then passed it along to friends. She realized it might be a marketable product after getting many positive comments and questions as she wore it around town.
Social Customer Service in Real Time

Today, Baby K'tan fields most customer questions and comments through social media. With over 8,000 followers on Twitter and over 25,000 likes on their Facebook fanpage, they engage in frequent conversations, and use HootSuite to help manage their activities.
"I think the main benefit of HootSuite is having the dashboard available to see everything that's happening in one place," says Reina Christian, Marketing Coordinator for Baby K'tan. "We are able to monitor things in real time, so we're not missing out on a Tweet that's super interesting. Or if someone has a question, we can respond right away."
In addition to responding to customers inquiries, Baby K'tan uses social media to help conduct surveys and get feedback on new products. For instance, they have made decisions on what new colors to introduce after polling their Facebook fans. "That's great because we know it's what our customers want," says Zipper. "And those colors do very well, obviously."
The results speak for themselves. Since 2012, Baby K'tan's Facebook fan page has grown by an average of almost 700 likes per month. They are steadily building a community of parents who support the product, share stories and pictures, and even answer each others' questions through social networks.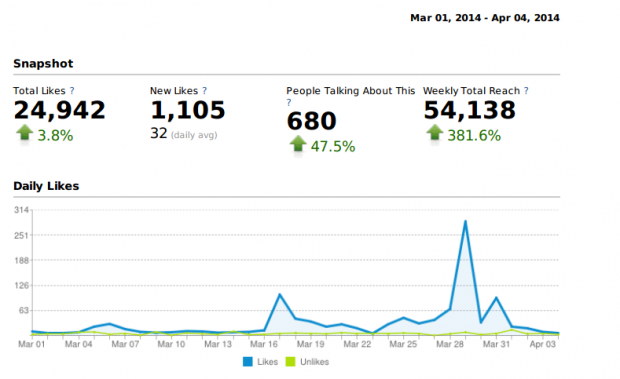 Connecting with Brand Ambassadors to Boost Business
Since Baby K'tan carriers are sold via retailers, social media has helped Baby K'tan empower their distributors by sharing their images and customer experiences. Working together with one of their Canadian distributors, Baby K'tan has recently partnered with Canadian Olympic diver Emilie Heymans. Heymans is now an ambassador for the brand, as well as a customer. Social media provides a way for Baby K'tan to connect with bloggers and others who want to take part in their brand ambassador program, which includes attending local baby and parent events in exchange for products and the gratitude of a growing business.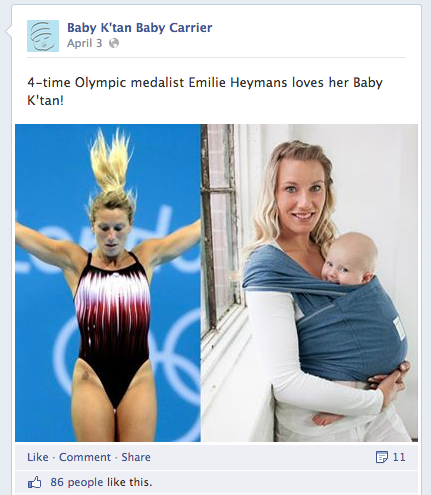 As a small business with a lean marketing team, Baby K'tan has found HootSuite vital for supporting their marketing strategy. They are building strong personal relationships with current and potential customers using social media to listen, engage and respond quickly to parents' questions and concerns. "Social media and HootSuite are definitely giving us an opportunity and platform to connect with those individuals, and that is such an important part of our customer service and brand strategy," says Christian. "I think having that connection and being able to reach someone immediately has worked wonders for our brand."
To get your business up and running on social media, check out our Small Business Bundle. It's tailored to save you time and help you grow your business.