2014 BNY Mellon Boat Race in Social Media: Oxford Beats Cambridge, Hunter Boots Beats Hackett London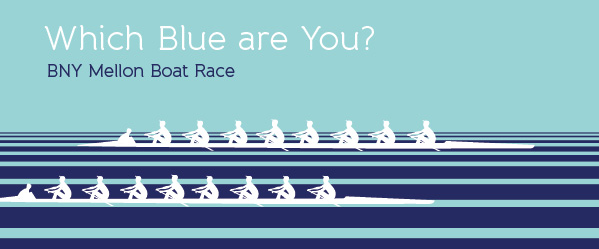 Oxford took Sunday's 160th showdown on the Thames, beating rivals Cambridge with the the largest winning margin since 1973. The 2014 BNY Mellon Boat Race was all but decided when oars clashed before Hammersmith Bridge, causing Cambridge rower Luke Juckett to fall out of his seat and nearly into the river near the Harrods Depositary.
Fans of the Light Blues can take solace that their crews still lead the total tally, counting 81 wins to Oxford's 78, with one tie. Dark Blue crews, however, have taken three out of the past five boat races, and ten since 2000. Historic hegemony over the 6.8-kilometre course seems soon to be up for grabs.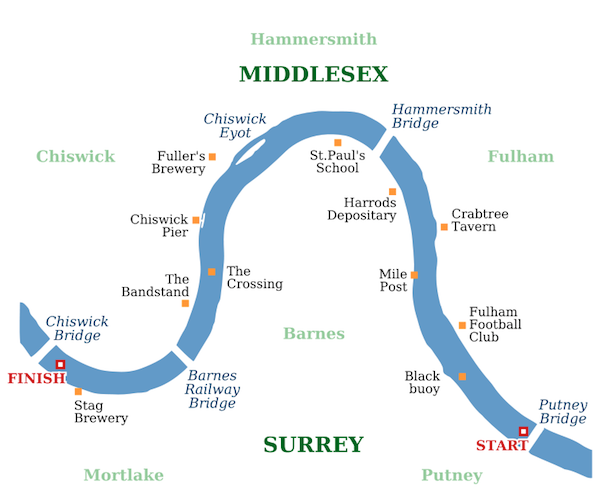 The Boat Race is more than an arbiter of bragging rights for Oxbridge alums; it's a cultural institution and one of the U.K.'s biggest sporting events. With 16 of the world's top men competing, it's second only to the Olympics in its importance within the sport. And outside the world of elite rowing, it's a massive media event. As many as 15 million people watch the event on television, while 250,000 watch from the banks as the teams race through south west London.
As with all major cultural events, the race's story was told in real time via social media. Using the uberVU via HootSuite platform, we took a deep dive into the mentions of the Twitter handles for each team, the sponsors and the race itself. The handle, @theboatrace, had approximately 13,000 mentions on April 6th. Oxford beat Cambridge in both sentiment (34% positive) and engagement (@oubcsquad had 1,941 RTs), but Cambridge had greater exposure, due to the Luke Juckett incident being widely discussed by handles with large social followings, including sponsors Hunter Boots and Hackett London.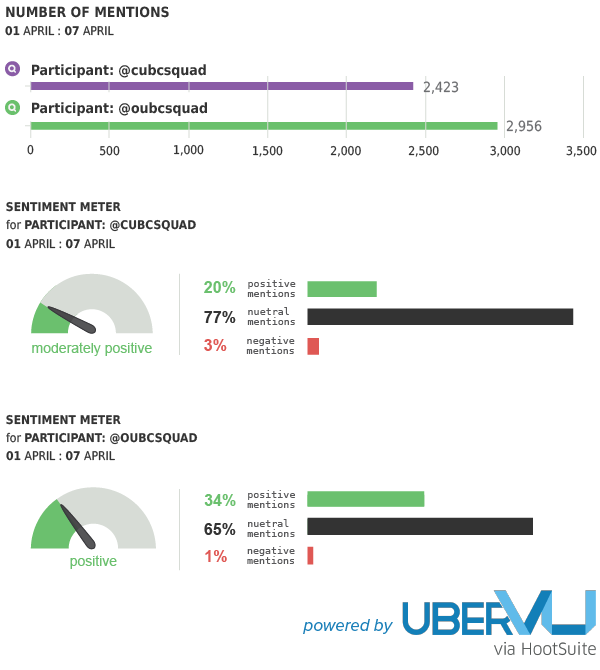 The race was just as lopsided when it came to sponsors. Luxury footwear brand Hunter Boots ran away with the event, claiming 1,363 mentions for @hunterboots, and 4,385,567 impressions. Sentiment favoured tourism operator London Rib Voyages, which earned a 38% positive score.
For brands, the Boat Race provides a fantastic opportunity to engage a large and specific audience that shares social, behavioural, and buying characteristics. "The rise of real-time social media interaction provides an opportunity to supplement branded involvement  through engaged channels," explains our EMEA Marketing Director, Merinda Peppard. In this case, Hunter Boots, despite not being a lead sponsor, delivered results through leveraging the strength of their brand within the core audience.