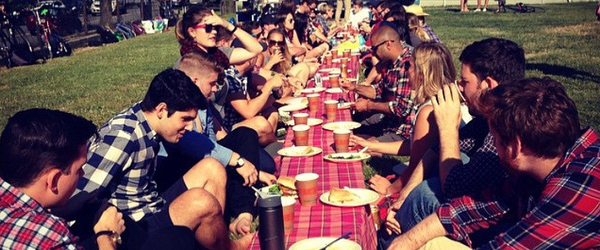 #BofService: How Hootsuite Employees Give Back to Their Communities
Hootsuite recently became a #BCorp, a certification given to companies that pass demanding standards of benefitting the community, environment, employees, consumers, and suppliers.
To help celebrate, we joined over 1300 B Corporations in #BofService month, where B Corps around the world commit to fostering a spirit of service to the communities where they live and work.
One of our core values is to have passion in all we do—from our work to our relationships—and this translates to how we give back to the communities we're a part of. Our 'owls' are constantly organizing events to raise awareness and funds for causes they care about deeply. Below is a snapshot of just some of the cool stuff we did to #BofService to our community.
Pro Bono Yo
Skills-based volunteering is an important part of how we give back; and on June 9th, we hosted a Social Media Tuneup, the in-real-life version of our virtual tuneups, where our employees volunteer their time to provide one on one social media coaching to local nonprofits. We partnered with @net2van and helped 20 nonprofits including Open Media and Children's Wish Foundation with their social media strategy.
What did you learn? RT @cwfbc: Learning so much! #Hootgiving pic.twitter.com/EL0rjA9oyX #BofService #HootsuiteLife

— #HootsuiteLife (@HootsuiteLife) June 10, 2015
Team-Building with a Purpose
Our Sales team decided to use their quarterly team outing to raise money for Prostate Cancer Canada. Taking inspiration from Dîner en Blanc, Dîner en Plaid was a long-table potluck dinner in the park.
#DinerEnPlaid last week with these peeps (@akikaltenbach) #hootsuitelife #wearplaidfordad pic.twitter.com/pAKd6OCuLd — John Adams (@JustJadams) June 15, 2015
Employees Know Best
Over 80 percent of the fundraising and volunteering initiatives at Hootsuite are championed by our employees. This ensures we support causes that resonate with our people and they're excited to support them. A great example of this is an annual event called Marathon of Sport, a day-long bonanza where we compete alongside Special Olympics athletes in a variety of sports to raise money and awareness for Special Olympics Canada. This year was the biggest turnout yet and we collectively raised more than $17,000.
June is @BCorporation's #BofService month! I'm supporting @motionball #hootsuitelife pic.twitter.com/Rg7UidWtxY

— Jaime Stein (@jaimestein) June 8, 2015
Not satisfied with the amount of money raised for Special Olympics Canada, we sent an all-star team to Tech Got Talent, a lip sync contest for local tech companies in Vancouver. @HootRamos, @HootJenna, @augustodomain and @Hoot_Diana made it rain with their perfect renditions of Beyonce, Jay Z and R. Kelly, generating another $3,000.
Congrats @HootRamos @HootJenna @augustodomain @hoot_diana on raising $1500 for @Motionball at #TGT2015 #HootsuiteLife pic.twitter.com/eYtLqz7lxL

— #HootsuiteLife (@HootsuiteLife) June 25, 2015

Community has always been central to both our product and our culture at Hootsuite. As a newly minted B Corporation, we're incredibly excited about showing how we can all #BtheChange in our communities.