There's nothing more frustrating than hitting a plateau on social media. You stop gaining new followers as quickly as you once did. You craft what you believe to be a hilarious yet relevant post only to watch it sadly sit on your timeline with zero likes or replies. You start scrambling to come up with new tactics to get things moving again but feel like you've exhausted every avenue.
Sometimes the best place to look for inspiration is literally right outside the window. There's no denying that the internet is a magical place. But another great place, full of opportunity and excitement, is the real world. Creating offline experiences for your followers can make your online relationships stronger by giving them deeper roots that exist beyond a screen.
These ideas—hosting events, providing experiences, sending out swag—are by no means new ideas. In fact, they're pillars of traditional marketing strategies that many businesses have been using for decades. What we're looking at instead is how you can use these traditional marketing activities to specifically strengthen your online communities and boost your social media presence, while benefitting your business in the process.
1. Host an event for your followers
Twitter's core function is connecting people to one another, anywhere, any time. Hosting an event that helps turn these online connections into offline relationships is a good way to provide value for your followers and deepen their emotional connection to your brand.
Depending on the size of your social communities, you can either host a meetup open to all of your followers on social media or make it a network-specific event like a Tweetup or an Instameet if you're looking to focus your social efforts on one in particular.
If your business operates in multiple locations try to organize regional events if possible, or empower your customers to organize them on your behalf. We do this with our Hootups, which are free events, organized by Hootsuite users, for social media enthusiasts around the world. These events offer our users a way to position themselves as leaders within their local communities, while offering people a fun way to network, explore, and learn about social media and the Hootsuite platform.
How to make it benefit the business
Make it interactive
Adding an interactive element that's reflective of your brand, product, or service will make your event more valuable and memorable for your followers. For example, a grocery store could organize a Tweetup hosted by an expert chef that teaches people how to make a recipe using ingredients found in-store. Once the dishes have been made, the store could post photos of them on Twitter, share the recipe, and encourage the rest of their followers who weren't in attendance to try it at home and post photos of their own completed dishes.
Give 'em something to talk about
To help increase brand awareness and gain new followers on social, your event needs to include something compelling enough to make people want to talk about it. It could be anything from a special guest speaker to shiny balloons that spell out your event's hashtag (seriously, those things are always a big hit). There should be something that either offers people an irresistible photo opportunity or a way to make their friends jealous about missing out.
2. Provide real-life experiences
If you don't have the time or the resources to host your own event, it can be just as effective to reward your followers by giving them access to other offline experiences. Something as simple as giving away tickets to a conference, trade show, concert, sports game, or another event that's relevant to your brand will let your followers know that you're on social to add value to their lives and that following you comes with perks.
How to make it benefit the business
Surprise and delight with your own product or service
One of the most well known examples of this is from 2011, when a man jokingly tweeted about wanting a steak from Morton's Steakhouse waiting for him when he landed at the airport. Morton's Steakhouse responded by doing exactly that; an employee met him at the airport (in a tux) with a full steak dinner.
Hey @Mortons – can you meet me at newark airport with a porterhouse when I land in two hours? K, thanks. :)

— Peter Shankman (@petershankman) August 17, 2011
Oh. My. God. I don't believe it. @mortons showed up at EWR WITH A PORTERHOUSE! http://t.co/bD8k4r0 # OMFG!

— Peter Shankman (@petershankman) August 18, 2011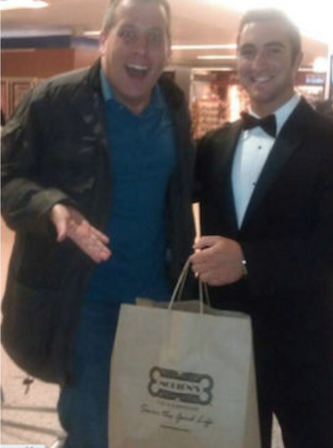 You don't need to start hand delivering expensive steak dinners at airports to surprise and delight your followers. Even the smallest offline gesture can make a big impact in your online relationships.
Uncovering opportunities to create unexpected offline moments like this for your followers is easy. Just set up a search stream in Hootsuite and you can monitor any and all mentions of your brand on Twitter, whether they include your handle or not, use a hashtag, or even spell your company's name wrong. Here's an example of a search query you could use (just replace "Hootsuite" with your brand name):
(@hootsuite OR #hootsuite OR hootsuite OR "Hoot suite") -RT lang:en
By including "-RT" and "lang:en" you'll be excluding Retweets from showing up in the search results and only seeing Tweets in English. Feel free to change or remove those if you wish.
Learn how to get even more out of Hootsuite with free social media training from Hootsuite Academy.
You can also set up a search stream to look for opportunities to surprise and delight someone even if they don't mention your brand directly. For example, if you work for a cafe, you could set up a search stream for the phrases "need coffee" or "want coffee" to find people who might appreciate the precious gift of caffeine. By clicking on the arrow icon in the search query field, you can filter the results by location and only see posts from people near your cafe.
3. Run contests and giveaways
Contests are a reliable way of attracting new followers on social media and strengthening the emotional connection they have with your business. Sending out prizes through the mail along with a handwritten note saying congratulations is an easy way of turning the online connection your followers have with your brand into a tangible experience.
How to make it benefit the business
Use branded swag as prizes
Whether it's a notebook, coffee mug, or t-shirt with your logo on it—swag is easy to produce and loved by everyone. You'll often see people post photos of the prizes they win on Twitter, Instagram, or Facebook, making branded swag an easy way to reward your followers and increase your brand awareness at the same time. Just make sure your swag is high quality. Nobody is going to proudly display their collection of cheap ballpoint pens that ran out of ink after one use.
Combine online and offline experiences
For a business looking to increase foot traffic, try organizing a scavenger hunt that uses social media to offer clues to real world locations that your followers must get to in order to win. For example, the Orlando City Soccer Club hid three pairs of tickets around the city and used Periscope, Twitter, and Instagram to offer clues and instructions on how fans could find them.
Whether you're organizing an event, monitoring social media to find real-life engagement opportunities, or running a giveaway, Hootsuite can help ensure the success of your community-building efforts both online and offline. Try it free today.