Building Community Around Sports Organizations #CMHootUp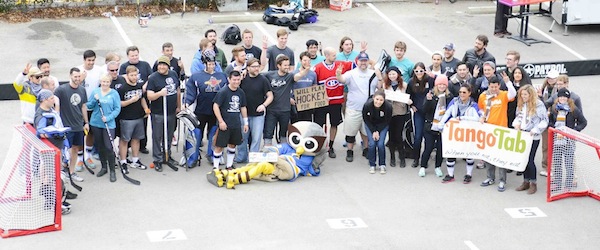 Sports teams provide the ultimate blueprint for building passionate communities. From crazed, heckling fans to the loyal, long-term season ticket holder, sporting organizations understand how to channel community into revenue. Social media allows sports organizations get creative in uniting their fan base by humanizing teams and athletes, giving unprecedented access to content and actually making fans contributors to the team. Whether it's bantering online or offering a behind-the-scenes look, sports organizations increase fan loyalty through social media.
Many sports teams, in both minor and professional leagues, have learned to harness fan passion. They engage fans, they start conversations, and they contribute to the overall experience of sports. Two such teams that are particularly savvy at this are the Vancouver Canucks and the Vancouver Whitecaps FC and lucky for you, we're letting you in on their secrets.
Join Us at #CMHootUp
Join us on April 3rd for the second #CMHootUp hosted at HootSuite's Vancouver office. We're providing you an opportunity to learn a few secrets of building a community around sports organizations. We're thrilled to offer some of the industry's best, here's a sneak peek of what to expect:
The Vancouver Canucks
In a hockey crazed city like Vancouver, the Canucks have embraced the purist fan-base. They've complemented real-time engagement and channeled fan loyalty into ROI of ticket sales, merchandise, and sponsorship activations. The Canucks have a refreshing voice on social — keeping it fun and light-hearted to match the active, granola fuelled crowd.
The purveyor of the @VanCanucks voice is Nicole van Zanten, who leads the Canucks social media and digital strategy. She diligently builds the Canucks into a social powerhouse with the 5th and 10th highest Twitter and Facebook followings in the NHL at 500k and 940k respectively. You'll get a chance to learn how Nicole and the Canucks have built their social following at the upcoming #CMHootUp in Vancouver on April 3. See below for full details.
The Vancouver Whitecaps
A relatively new team in the MLS, The Whitecaps organization has been challenged to capture share of voice in the local and international sporting market. They have utilized Twitter to keep their fans updated with breaking news and up to date scores, as well as run contests and even sprinkle in the perfect amount of humour to keep followers engaged.
Adam and Shaina, the brains behind the Whitecaps social media strategy, are currently encouraging people to share their memories of the Whitecaps heritage by sharing and tagging pictures with #Since74. At its core, social media is about telling stories. What better way to do that then have your community share their memories about a team?
#CMHootUp is happening on April 3rd, 2014 and there are still a few spots available at this free event, If you're in Vancouver, be sure to join us by registering here. (The password = cmsports). Thanks to our sponsors BEERTHIRST, KIND, Spud and RISE Kombucha!