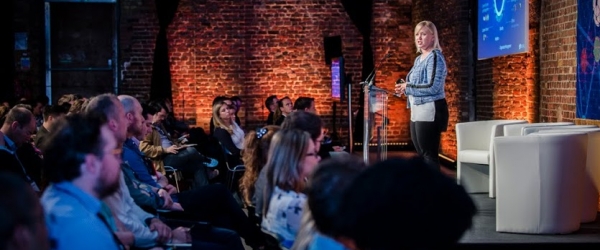 Connect via Hootsuite London: Lessons on Scaling Social
Last week, on June 4th, we hosted our first European Enterprise event in London, Connect via Hootsuite, as part of our global social business series. It was a big day, with announcements of our new re-brand, Enterprise Custom Education programme and suggested content feature within Publisher.
CvH London was all about scaling social media across your entire organisation. A full house of Enterprise customers, media, and analysts gathered for the keynote from Jeanette Gibson, Ajai Sehgal and Joseph Smith: Empowering the Social Business. Those who couldn't make it joined in on social media, generating 3,800 mentions and causing the hashtag #CvHL to trend in the UK.
Following the keynote, Twitter's Tariq Slim kicked off an afternoon of talks and lively panel discussions. His session focused on the shift to mobile, explaining that more than half of Twitter users say it gives them the latest news faster than any other source, and 80% of these consume content through mobile.
Next came our customer panel discussion moderated by Econsultancy CEO Ashley Friedlein featuring Peter Sharples of Centro, Andreas Maurer of 1&1 Internet, Scott Hornsby of Local World Media, and Jo Winser from Environment Agency. How does Maurer scale social across his organization? By making his job redundant: "Last year we made a big change; we decentralised social and disbanded the social media team, integrating these functions into the wider business."
The rest of the afternoon featured a packed schedule, including a talk on crisis communication with Lucy Whitehead of Transport for London; a discussion of NATO's brand recognition efforts with the treaty organization's head of social media, Franky Saegerman; and Stuart Witts, Social Media Manager for the Marie Curie Cancer Centre, on brand storytelling. Our friend Dr. William J. Ward, Social Media Professor at the S.I. Newhouse School of Public Communications, also gave a thought-provoking talk, kicking off his session on the digital transformation of the enterprise with a surprising statistic: "improved communication and collaboration from social media could add $1.3 trillion annually in value to the economy."
We had a great time last week connecting with our European customers and discussing strategies to meet the growing challenge of scaling social media across the enterprise. Next on the agenda is the third in our CvH series: New York. We look forward to seeing you there! For more information on the tools you need to scale social media across the enterprise, request a demo.