How Crowdfunding and Social Media Empower Independent Film – 'The Outs', Community Spotlight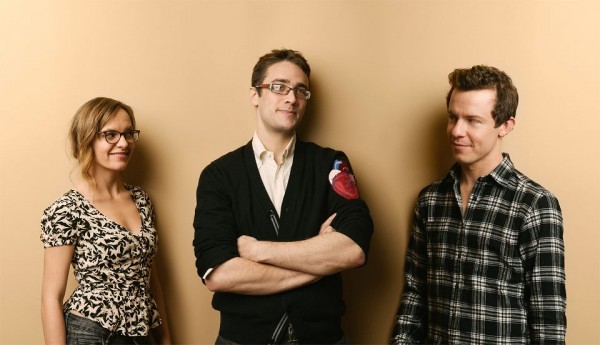 With crowdfunding tool Kickstarter continuing to expand, the time has come for many starving artists, eager start ups and young entrepreneurs to make their creative ideas a reality.
We sat down with Adam Goldman, a director and writer based in Brooklyn, NY, who used Kickstarter to catapult what Paper Magazine calls the best web series ever.
Catch the 7 part mini-series entitled 'The Outs' and continue reading to find out how crowdfunding and social media helped Goldman challenge the way we depict Queer culture in media.

Tell us about 'The Outs' in one tweet. You've got 140 characters, go!
The Outs is about the aftermath of an ugly breakup, and the half-life of love. Just because it's over doesn't mean you're over it.
Bam! Like eleven characters to spare!
Talk about crowd funding and the role of Kickstarter in the creation process.
Kickstarter is such an incredible tool for independent filmmakers."
"For us, we just wanted to be making things – we were tired of working on other people's projects.
I was unemployed at the time and temping, Sasha (Winters, who plays Oona and helped me write the show) worked at a restaurant; we didn't exactly have time to put together a pitch to make a "proper" TV show or a film – and we wouldn't have known where to start, frankly.
So fortunately for us we live at a time when we can rent the equipment to make the show ourselves, it just requires a little money, and that's why Kickstarter is such an incredible tool for independent filmmakers."
But more importantly – and especially significantly for a show like The Outs – Kickstarter really represents the democratization of media.
I know that might sound a little bullshitty or pretentious, but it's true: The Outs features gay characters who are (hopefully) well-rounded people with problems and without any of the trappings that traditionally get foisted upon queer characters in media. That simply did not exist when we started making the show.
So we got to go to the public, to the internet, and say, 'Hey! We're making this thing – do you like it? Do you want more of it?' And the answer was yes.
Traditionally you just have to wait for a bunch of people in a network boardroom to decide what you should be watching, so this really does represent a sea change in the way people watch, create and interact with their media."

Which social network do you get the most 'shares' on? How do you choose which content to put on which platform?
The Outs definitely has its biggest following on Facebook – about 17,500 fans.
As a writer I'm a little finnicky about Twitter; I have trouble thinking in thoughts less than 140 characters and Facebook allows me to ramble on pretty much endlessly so that's where most of our sharing ends up.
Twitter is great for spreading news about The Outs (and our new show, Whatever this is, which just raised $165,000 on Kickstarter!) but I find that Facebook is better for getting fans to interact and share content.

How did you manage all the social media mayhem, pre and post airing? Did you schedule content ahead of time?
Honestly, I managed it day by day, at my desk, which is how the whole show got made. People are like "Who does your PR?" and I'm like "What is PR?"
The farthest ahead of time I ever scheduled a post was probably twelve hours, but that's because I'm a procrastinator. I'm super self-conscious about not flooding people's news feeds with our stuff – probably to a degree that's not super helpful from a marketing standpoint.
Top people who have ever tweeted at you?
Don't make me choose! I will say it was pretty cool to have Alan Cumming tweet that he was obsessed with the show. I subsequently got to sit down and hang out with him and we've worked with him a few times now which is a complete thrill. He's been in a succession of my favorite movies so that was surreal.
I'm obsessed with 'The Outs'. It's a hilarious, tender web series from Brooklyn with great music! Check it out! http://t.co/xIeQlHI0

— Alan Cumming (@Alancumming) September 26, 2012
What is the most important thing you have learned from social media?
People want to keep in touch with stuff they like, so they actually don't mind getting communication about it!
Have you committed a social media snafu?  What did you learn from it?
I consider my life to be one long protracted social media snafu.
How do you feel social media has contributed to the success of "The Outs"?
I think we all are still figuring out how to "do social right," and there's not real right answer.
It's been critical – people visit our website, but by and large the fans keep up with us on Facebook, and that's very much by design. There's no way that the community that's sprouted up around The Outs would exist without Facebook and other social media as a tool for people to connect.
Especially given the way TV is evolving, with Netflix releasing a whole season of a show on one day, social media is integral to the way word gets around. It's central to the business model, so it's only going to become more and more important in the next few years
Who does social right? Do you have a fav celebrity or brand you follow?
This is a great question, and no, there's no particular brand I'm enthusiastic about. I think we all are still figuring out how to "do social right," and there's not real right answer.
Thank you Adam for participating in our feature!

If you happen to be in Vancouver, The Outs is part of the Vancouver Queer Film Festival, being held this week across Vancouver, BC. Buy your tickets online for the screening held Monday, August 19th at 6pm.