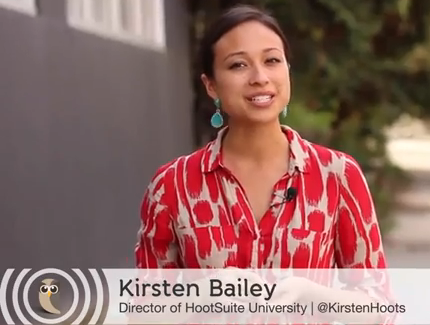 Are schools properly preparing the next generation of professionals to enter and thrive in the modern workforce? Not enough, says Kirsten Bailey, Director of HootSuite University. So she'll instruct professors and academics at Direct/Interactive Marketing Research Summit 2012 on how to effectively teach social media in our ever-changing world of social and online communication.
Watch Kirsten's Talk at Direct/Interactive Marketing Research Summit 2012, Las Vegas
Date: Sun Oct 14
Time: 10:00 – 11:30 am
Format: Panel
Venue: Mandalay Bay, Las Vegas
Session Title: "HootSuite University for Higher Education: A New Tool Assisting You in Teaching Social Media"
HootSuite University explores and educates on the constant emergence and evolution of social media technologies, platforms, networks and features, so you don't have to. "By the time you put this stuff in a textbook, it's already out of date," says Bailey. Read our past posts on higher education for training social media professionals:

Find out how to tap into the higher education tools necessary for educating the next generation of professionals for a social media future.
Follow @KirstenHoots and let us know what comments, questions or social media education tips you may have for us. If you're at the event, say hello and Happy Birthday to Kirsten for us!