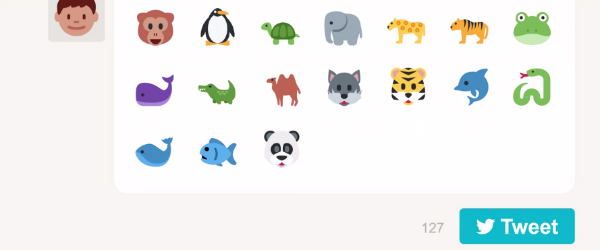 Inside #EndangeredEmoji: How WWF Uses Animal Emojis to Save Their Real-Life Counterparts
For most of us, not a day goes by without using an emoticon in text messages, Tweets or emails. The use of these tiny emoticons isn't limited to a single country or language, and in 2014, one of them even received the title of being the most frequently used "word" of the year. That's why this year, one organisation harnessed the universal appeal of emoji to raise awareness for endangered animal species around the world.
Highly shareable nature of emoji inspired WWF International to create the #EndangeredEmoji campaign on Twitter. This global social media initiative centered around 17 real endangered species, each represented by their own animal emoji. To participate, Twitter users were encouraged to retweet a message from WWF's account and include endangered emoji in their own social messaging.
We're using #EndangeredEmoji to save real animals from extinction. Please retweet to sign up and help. pic.twitter.com/hX1p1GEDZ9

— WWF (@WWF) May 12, 2015
Launching the first-ever emoji-based branding campaign, such as #EndangeredEmoji, is no small feat. Join our live webinar for an exclusive behind-the-scenes look at the planning and execution of WWF's innovative global awareness initiative.
Date: Wednesday July 22, 2015
Time: 8AM PT / 11AM ET / 4PM BST
WWF International's Digital Innovation Manager, Adrian Cockle, will share key learnings from the initiative, as well as:
The benefits of utilizing social analytics and deep listening for global social media campaigns
Campaign best practices, including publishing, engagement, monitoring and reporting
The process of planning and execution of a successful global awareness campaign