HootSuite Welcomes Enterprise Social Network Socialcast to App Directory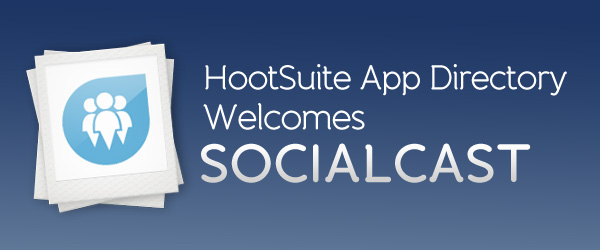 The HootSuite App Directory adds another tool strengthening its collaboration capabilities. We're pleased to introduce Socialcast, our latest integration designed for enterprise, but available to all HootSuite users.
Socialcast is an internal social network for businesses. It unites people, information and applications, with its real-time enterprise "activity stream engine." More than 30,000 organizations in 190 countries rely on Socialcast to provide secure, instant collaboration and communication across their businesses.

HootSuite's latest integration allows you to easily manage your organization's internal social network, alongside external social networks. What does that mean to your business? Bring key conversations from Twitter, Facebook, Google+ and LinkedIn into an organization's private internal Socialcast community. There, in your "activity stream," customer ideas and feedback can be discussed privately, and acted upon with relevant, real-time information.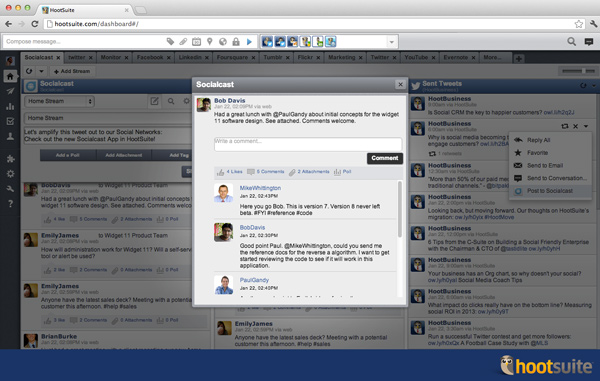 The Socialcast app allows users to monitor and publish updates, create polls, send private messages, like and comment on updates, view and add attachments and much more – all from within the HootSuite dash.
Here's an example:
A Support rep discovers a customer question posted on Twitter that the rep does not know the answer to. The rep can simply "share" this customer's Tweet directly into the internal Customer Support group in Socialcast, to get a quick response from colleagues.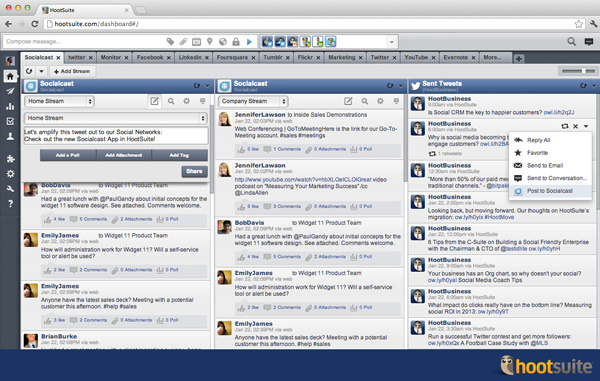 For a preview of the Socialcast and HootSuite integration, watch a brief demo here:
Key features:
View your Home, Company, Mentions, Recommended, Private Messages and Group feeds
Post updates to your Company and Group feeds including polls, attachments and #hashtags
View likes, comments, attachments and polls for all status updates
Like, flag and comment on status updates
Search for content in your network and groups
Send Tweets and Facebook posts from HootSuite streams directly to your Socialcast community for internal collaboration
Support for multiple Socialcast accounts
This app integration is available to all HootSuite users. Learn more or sign up for Socialcast free community to see how it can help benefit your organization.
Streamline social business systems and encourage teamwork in your organization with this latest social collaboration. Try it now and start collaborating today!

Need help installing apps? Check out our App Directory Guide. Also, be sure to follow @HootSuite_Apps for the latest updates and news on the HootSuite App Directory.
Are you an organization or developer that would like to work with HootSuite? Learn how you can integrate your app using the App Directory SDK.