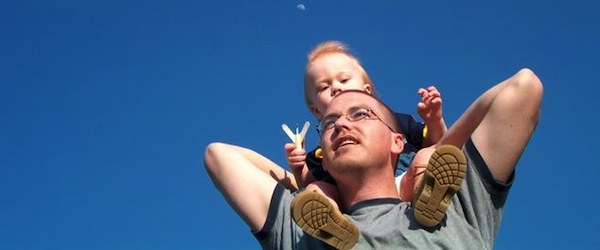 Question of the Week: Father's Day Edition
This Sunday, people across North America will be celebrating Father's Day in the form of cards, breakfast in bed and maybe even a necktie or two. We all know how awesome our moms are, but this day is all about dads. Dads: they taught us how to ride a bike, throw a football, shave for the first time and stand up for ourselves. Many of us look up to our fathers; since we were little kids, we knew that dad was the coolest guy in the world.
For a lot of people, our dads were our first heroes. In honor of all of those awesome guys we call Dad, we decided to ask our Twitter followers: What is one thing your dad taught you that you bring to your job? 
We had some really amazing responses (a few that got me a bit emotional), each giving us a glimpse into the knowledge shared through generations of different families. With these answers we also saw the huge amount of love and admiration that our followers feel towards their fathers. We also saw that every once in a while, when it comes to humor, the apple doesn't fall far from the tree. Let's take a look at some of your answers:
@hootsuite To treat others as you'd wish to be treated. #respect #Dads — Monks Yard (@TheMonksYard) June 8, 2014
@hootsuite I think non-emotional decision making along punctuality — Omar Mansoor (@OmarMansoor) June 8, 2014
@hootsuite I try and aspire to his immense dedication and awesome work ethic. — Alistair Hann (@Pro_Copywriting) June 8, 2014
@hootsuite Tenacity and the ability to survive on little sleep! — Hotel Felix (@FelixCambridge) June 8, 2014
Always make your boss look good RT@hootsuite: In honor of Father's Day, what's one thing your dad taught you that you bring to your job? — Brendan Burns (@guyfromcolorado) June 7, 2014 
@hootsuite Respect what everyone you work with brings to the table. — Tea (@IcedTea17) June 7, 2014
Dad taught me that experience and attitude trump education @hootsuite . — Tara McGuire (@TaraJMcGuire) June 7, 2014
@hootsuite: the one thing my dad taught me to bring to my job: Be honest & stand up for the little guy / gal

— Colleen Dube (@DubeColleen) June 7, 2014
It is pretty easy to see how much our fathers impacted our lives. Whether it be teaching us about having a strong work ethic, being respectful to coworkers and friends, or even how to get ahead in a work environment… our dads are the guys that we look up to.
While it may be cliche, and quoted a ton of times in the past, photographer Anne Geddes one said "Any man can be a father but it takes someone special to be a dad."
Thank you dad, for always being my inspiration to do better; and thank you to all the dads who sacrificed sleep, money, time (I could go on…) to help shape us into the adults we are today.