Our 3 Favorite Blog Posts of 2013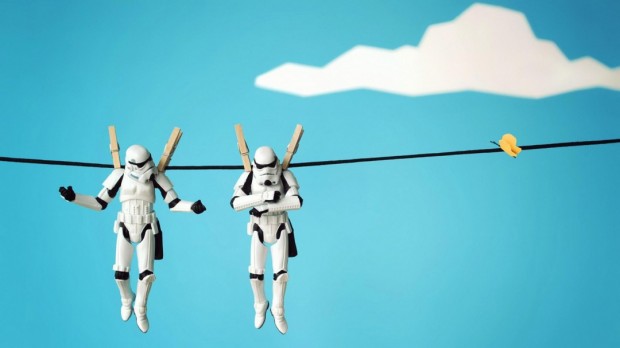 Over the last 12 months, the HootSuite blog has played host to over 600 blog posts. This massive amount of content has included posts of all types and topics, from sales tips to Harlem Shakes. But along the way a few posts have risen above the rest, capturing our attention and our interest.
These are our favourite blog posts of 2013, as chosen by each member of the HootSuite blog team:
Social Media and Storytelling (The Series)
As a writer, you're often asked to wear many hats. On some days you might need to write something very business-focused, the next day you might write a client profile, and on the day after that you might end up writing about dogs in costumes. But no matter what you're writing, the goal of writing it is almost always to have people actually read it. In the social media age, if you want blogs or other content to be shared far and wide, there's no better approach than storytelling.
Cameron Uganec, HootSuite's Director of Marketing, explored the value of social media and storytelling in a 6-part blog series that ended up being very popular among writers. In the series, Cameron uses humor, Star Wars references and real-world examples to illustrate why the storytelling approach is so effective for brands. He talks about the rise of visual content, and offers tips for creating content that will get shared. As a blog writer, the series dives deep into situations I encounter every day, which is why this series comprised my favorite blog posts of 2013. – Evan LePage
Start with part one in the series, "Why Storytelling?"
Why It's Still Important to Follow Your Heart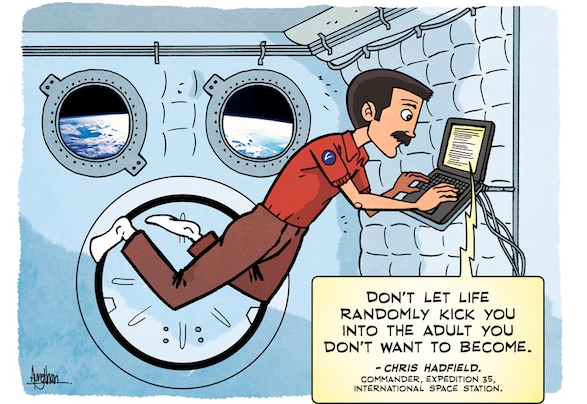 "Don't let life randomly kick you into the adult you didn't want to become"- Chris Hadfield
Have you ever experienced a time when you're cruising through the internet, and accidentally find something that sticks with you? Something that you hit the Back button to go and take a second look at? That happened to me one day when I was doing work for our blog. It could have been that I saw these words at the right time on the perfect day, but when I did, it sounded like the best advice I'd heard in a long time.
Apparently I wasn't the only one that this quote hit home too, because our CEO Ryan Holmes took notice to it as well. Ryan wrote an article, explaining how this quote by Commander Chris Hadfield inspired him. Including details of Hadfield's upbringing and childhood, Ryan shows that these words can absolutely ring true.  He uses examples from his own life that explain: with enough perseverance and a deep passion, you can make your dreams come true. As Ryan says, "…just do what you just freaking love to do! Then find out how far you can take that in your career and life."
So if you don't already see how important it is, go and read Why It's Still Important to Follow Your Heart. – Hannah Clark
Social Media Game of Thrones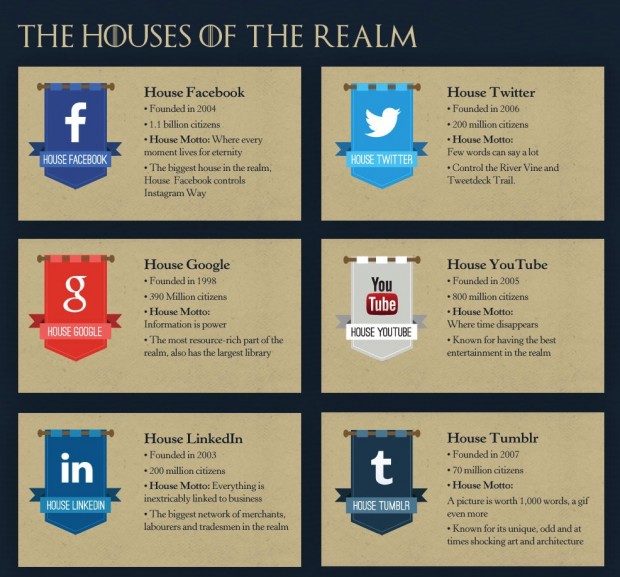 Working on a tight knit content team means hearing some pretty wild and fun content pitches. As a team, we are constantly trying to create content that is not only readable, but engaging and has the potential to go viral. In the early Summer of 2013, HootSuite's social content writer Evan Lepage proposed we adapt the popular television series Game of Thrones into an infographic illustrating that a Social Media Winter is Coming.
HootSuite's CEO Ryan Holmes had written early this year about the pending social media cold war and there were no signs that the tension would die down anytime soon. This beautifully designed infographic explains the wars and treaties between House Twitter, House Facebook, House Google, House Pinterest, House LinkedIn and House Tumblr. It explores how competition has developed sour relations between social media giants and effectively diminished the social experience for users across each platform. Sitting comfortable in the top viewed spot on the HootSuite blog for 2013, The team's social media Game of Thrones adaptation even made headlines on popular news website's such as Mashable and PCMag. – Alyssa Kritsch