#HootSuite Raises and Sprouts at @GrowConf ~ News Roundup
Funding and Fun
Shortly after hitting 2 million users milestone, HootSuite announced a new round of financing and acquired Twitter archiving tool, Twapper Keeper. On top of that, we also welcomed three executives – Steve Johnson, CRO; Darren Suomi, VP of Sales; Greg Gunn, VP of Business Development – to enhance our team of owls. The news is coming quickly here but we've stopped the firehose long enough to share this collection.
Today's news round-up features HootSuite's new additions and financing, as well as Ryan Holmes' speaking gig at Grow 2011, and an interesting article from Time's technology blog, Techland.
HootSuite's Raise
Since HootSuite's Series A financing, we've grown from 200,000 users to almost 2.5 million! We're proud of our progress and are looking forward to the future with more success on the roadmap. Here's what people had to say about our recent announcement:
TechCrunch – HootSuite Raises $3M From Hearst And Others, Buys Twitter Data Analysis Tool TwapperKeeper
As we reported yesterday, social media dashboard company HootSuite had raised a new round of funding, according to an SEC filing. We've confirmed the funding with the company, and today, the startup is announcing a

$3 million raise from previous investors and new investor, Millennium Technology Ventures. HootSuite has previously raised $1.95 million from Blumberg Capital, Hearst Ventures and Geoff Entress.

HootSuite, which now has over 2.5 million users is a profitable, and has a $8 million run rate (estimated $10 million by end of year). The company will use the new funding to make acquisitions, for sales and marketing efforts and for hiring. The company has also added Steve Johnson (former VP of Channel Partners from Constant Contact and Blackbaud) as chief revenue office; Darren Suomi (formerly at SAP and Business Object) as VP of Sales and Greg Gunn as VP of Business Development."
Media Bistro/All Twitter – HootSuite Raises $3M, Buys Analytics Tool TwapperKeeper
The popular Twitter dashboard, HootSuite, has just completed a $3 million round of funding. And their first move after amassing all of that cash? Purchasing Twitter data analysis company TwapperKeeper. Looks like Twitter's soon-to-be-launched official analytics platform might face some stiff competition.

[…]

Integrating TwapperKeeper's functionality into the HootSuite dashboard is an interesting development. The ability to analyze Twitter data is something that all power users are looking for, especially marketers and brands. And as HootSuite is in a position to serve those markets with its advanced features, TwapperKeeper will no doubt be a welcome addition by most of its users. It might also scare Twitter, as it enhances HootSuite's already stellar analytics offerings right before Twitter is set to launch its own official analytics product.
The Vancouver Sun – HootSuite Raises $3 Million, Acquires Twitter Archiving Service
The funding and acquisition marks the latest expansion for the rapidly growing HootSuite, which currently has 60 full-time-equivalent employees, up 400 per cent from the same time last year and a user base that has topped two million."

Scribbal – HootSuite Closes $3M Funding Round, Acquires Twitter Analysis Tool TwapperKeeper
HootSuite has also announced the acquisition of TwapperKeeper, following previous acquisitions of Swift App (which is now HootSuite for Android) and TwitterBar (now HootBar). TwapperKeeper analyzes, archives, tracks and monitors Twitter data. It is being used by company marketing departments, customer service teams, conference leaders and academic organizations. It seems this acquisition was made to help HootSuite improve its Twitter analytics offerings, while perhaps allowing users to archive tweets."
Techvibes – HootSuite raises $3 million in funding, acquires TwapperKeeper, hires more executives [Updated]
The startup, created by CEO Ryan Holmes and his team at Invoke Media, has previously raised a $1.9 million financing round that included Hearst Interactive Media, Blumberg Capital, and Geoff Entress.

HootSuite has 2 million users, is cash-flow positive, and was named as Canada's number one startup."
VatorNews – Social marketing dashboard HootSuite raises $3M
As the social marketing rocketship takes off, HootSuite is one of those companies that's up there in the cockpit."
TechFinance.ca – HootSuite Media Secures Financing
Xconomy – Northwest Deals: HootSuite, Symform, Avalara, X2Impact, Osprit
Growing in Vancouver
In August, HootSuite CEO, Ryan Holmes, spoke at Grow 2011, a technology conference that brings together entrepreneurs and investors to inspire innovation and entrepreneurship. Thought leaders, influencers, and tech leaders were among the 600 attendees at the second annual conference where Ryan shared HootSuite's story and the importance of keeping his businesses in Canada. Enjoy his remarks and surprising observations about decentralization of start-ups.
The media was in full force at the conference – here are a few posts mentioning Ryan and HootSuite, including a great interview with Techvibes TV.
Techvibes – Techvibes TV at GROW 2011: HootSuite's Ryan Holmes
Below is an interview with Ryan Holmes, whose session was titled "Border Patrol: Why it Does (or Doesn't Matter) Where a Startup Plants its Roots." In it, the Vancouver entrepreneur told the crowd why his company HootSuite chose to remain in Vancouver to many cheers from enthusiastic locals."

BLACKBERRYCOOL – Missed GROW2011 Conference?

Another great company that has a sweet mobile offering is Hootsuite. The CEO of Hootsuite, Ryan Holmes, was at GROW2011 to talk about some interesting facts about Hootsuite as well as the story behind the company. It's always interesting to hear about how a small bootstrapped company goes from a few users to over a million users and lots of funding."
The Vancouver Sun – Next-Gen Entrepreneurs and Customers in a Changing Landscape – 10 Lessons Learned From Speakers at Grow Conference 2011
itbusiness.ca – Six Reasons to Keep Your Startup in Canada, from HootSuite
Vancouver Is Awesome – Grow 2011 Conference Recap
Global BC – Tech Start-Ups, Business Leaders Gather at GROW 2011 Conference
We're Following You
At HootSuite we're big on listening so we were very excited when we found out we were included in the Top 10 Twitter Profiles (sorted by following others). The list, taken from Twitter Counter, has @HootSuite nestled in 3rd place between HootSuite clients @BarackObama and @Threadless. Oh Yoko! You've done it again.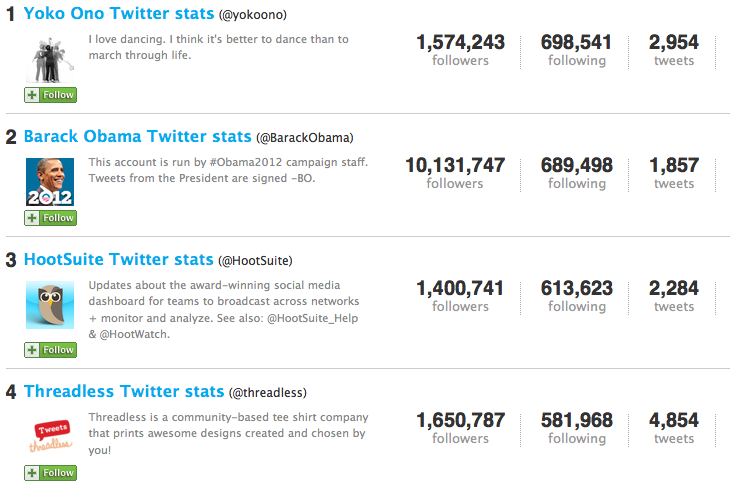 Time/Techland – Yoko Ono Is Following You (and 692,318 Other People)
Media Bistro/All Twitter – Yoko Ono Follows More People Than Anyone Else On Twitter (Including The President)
Hometown Hooting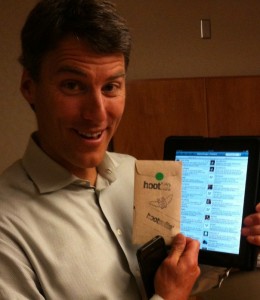 Vancouver Mayor and HootFan, Gregor Robertson, is the latest recipient of a HootSuite #HootKit. The mayor, seen here with his #HootKit and HootSuite for iPad, had the closing remarks at the above mentioned Grow 2011 Conference.
We're happy to see Mayor Robertson using HootSuite but are still waiting on him to proclaim HootSuite Day… Possibly in honor of HootSuite reaching #1 on TechVibes Top 100 Startups according to Alexa.com.
See the list below as we've jumped from 24th to 1st – plus 221 in the world.


BC Export Awards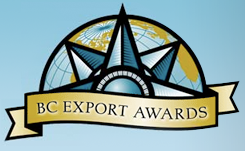 In other local news, Canadian Manufacturers & Exporters BC Division and the Ministry of Jobs, Tourism and Innovation announced that HootSuite is among this year's Top BC Exporters!
As reported by TechVibes, the winners will be announced at the BC Export Awards Gala taking place on October 28th at the Hyatt Regency in Vancouver. The 29th annual gala luncheon will celebrate the announcement of the winners from nine business categories and name the 2011 Exporter of the Year.
Our feathers are crossed in anticipation!
Back to School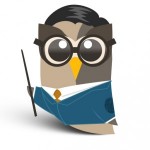 The days are getting shorter and the air a little more crisp. As we shift into conference season, little owlets around the world are settling into classes. While most fledgelings are getting their back-to-school gear, we're wondering, "Why not head back to school and learn some new skills or freshen up your social media moves with HootSuite University?"
On top of that, we have infographics, white papers, info sheets, case studies and more at the HootSuite library.
Wondering how you can stay up to date with us? Follow @HootSuite and @HootWatch for the latest news and developments from HootSuite HQ!