Why It's Still Important to Follow Your Heart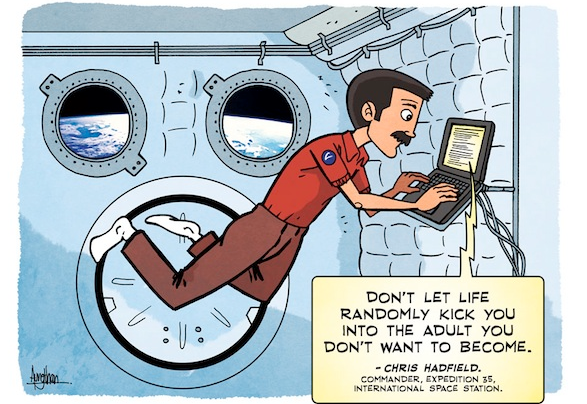 This post was originally published on the LinkedIn Influencer blog, a resource that brings together regular insights from hundreds of thought-leaders around the globe. To find out how you can follow world leaders, educators, industry experts and others (including HootSuite CEO Ryan Holmes), read this post: "How to Follow Richard Branson, Barack Obama and…Ryan Holmes on LinkedIn."
By HootSuite CEO, Ryan Holmes
Last month, astronaut Chris Hadfield returned from a five-month stint in space as something of a celebrity. The 53-year-old, social-media-savvy Canadian astronaut lived on the International Space Center between December 2012 and May 2013. During that time, he became an orbiting rockstar, sending out thousands of updates on social media channels like Twitter and Facebook and gaining hundreds of thousands of followers. (He even found time to record what's believed to be the first music video made in space — a cover version of David Bowie's "Space Oddity".)
Hadfield inspires me for a lot of reasons. One of them relates to the advice he gave earlier this year on Reddit: Keep following your heart and your biggest dreams, no matter how far away they might seem at times.
He of all people would know. At the age of nine, after seeing the Apollo moon landingon TV, Hadfield decided he wanted to become an astronaut. Then, unlike 99.99 percent of kids with the same dream, he made it happen.
It wasn't easy. Hadfield faced huge obstacles along the way and a lot of seemingly dead ends. But whether he was cramming hard for his engineering degree in college, or intercepting Soviet bombers in Canadian airspace as a fighter pilot, he kept pushing toward his biggest goal. On the subject of dreaming big, Hadfield said on Reddit: "You may not get exactly where you thought you'd be, but you will be doing things that suit you in a profession you believe in."
Ultimately, his career turned in the direction he dreamed. Hadfield's next stint, as an exchange officer with the U.S. Navy in the '80s, led to a collaboration with NASA. Finally, in 1995, he made it up into orbit on his first official mission to the space station Mir. That led to his groundbreaking mission earlier this year aboard the International Space Center.
Hadfield suggests doing what excites and challenges you as much as you can, day by day. If you stick to that, eventually you will get to places and heights (literally, for him!) you only dreamed of.
I totally agree.
But unlike Hadfield, I didn't know at the age of nine exactly what I wanted to be. And there are many people like me who didn't know what they wanted to be when they grew up. Some people still don't know.
One thing I did love as kid was computers (so much so that when I discovered them in grade 5 I spent every recess, lunch, and after school in the school computer library instead of on the playground). But I also loved paintball, so as a teenager, I started a paintball field. I loved business, so I went to business school, and I loved pizza and business so I dropped out of b-school and opened a pizza restaurant in my early 20s. My point is that looking back, I just kept doing things that excited me and made me happy, and I trusted that as long as I was doing that, I'd end up somewhere good.
And I did. I eventually got back into computers and combined that with my love of entrepreneurship and business in general. Now I feel I'm living a dream as CEO of a social media tool used by seven million people. I'm surrounded by 300 employees who love innovation as much as I do, and every day with them, I'm challenged to try to find ways to make social networking easier, better, more productive and more fun.
So it might be cliche, but if you still aren't sure, I suggest you try out as many different activities as possible until you find the ones that really excite you. What's the thing that makes time fly by and the world almost disappear around you while you're doing it? Or put more simply, just do what you just freaking love to do! Then find out how far you can take that in your career and life. It worked for Commander Hadfield.
For more social media insight and to learn more about my company, follow HootSuite on LinkedIn.
Images courtesy of: Gavin Aung Than, Zen Pencils