HootSuite Freemium Plans ~ Clarifications about teams, ads, stats & NPOs
Pricing and Team Members
There was plenty of reaction and opinions last weeks about our release of HootSuite freemium packages. We've listened to your feedback delivered via comments, Twitter, Facebook, blog posts, etc. and we've been taking it all in.
We'd like to thank everyone for the feedback (even the remarks with cuss words!) and let our users know the response was fairly loud and clear: people wanted more flexibility around pricing and team member seats.
As such, we're reviewing the pricing plans and over the next few weeks will be adjusting plans so they work better for customers including power users, small and medium businesses, as well as enterprises and large NGOs.
Non Profit Plans
We've also heard the requests for free/cheap/discounted accounts for non-profits and are working on a plan to best serve the needs of organizations with limited budgets to conduct charitable work.
The conundrum is differentiating between registered NPOs with significant marcomm budgets and grassroots groups with limited funds — then finding a way to help these worthy organizations conduct their social media campaigns.
If you are an NPO looking for discounted pricing on HootSuite, please fill out the Non-Profit Organization discount application form and we'll work to provide you with a 20% discount.
Team Members Clarification
Some users expressed concerns about the number of Team Members allowed in each plan. As you likely know, the team collaboration tools are designed to help businesses and organizations manage and respond to incoming messages efficiently.
With this in mind, we expect the biz and orgs to sign-up for Premium plans and then add Team Members to their account. Team Members in this scenario could also include contractors or consultants who work with companies who have Premium accounts.
Keep in mind, these invited Team Members can use free accounts, and their membership accounts do not count against their total account ownership allotment. The social account allotment only counts against "owned" profiles, not accounts in which the user is added as a Team Member.
Here's a schematic to explain your team might be organized: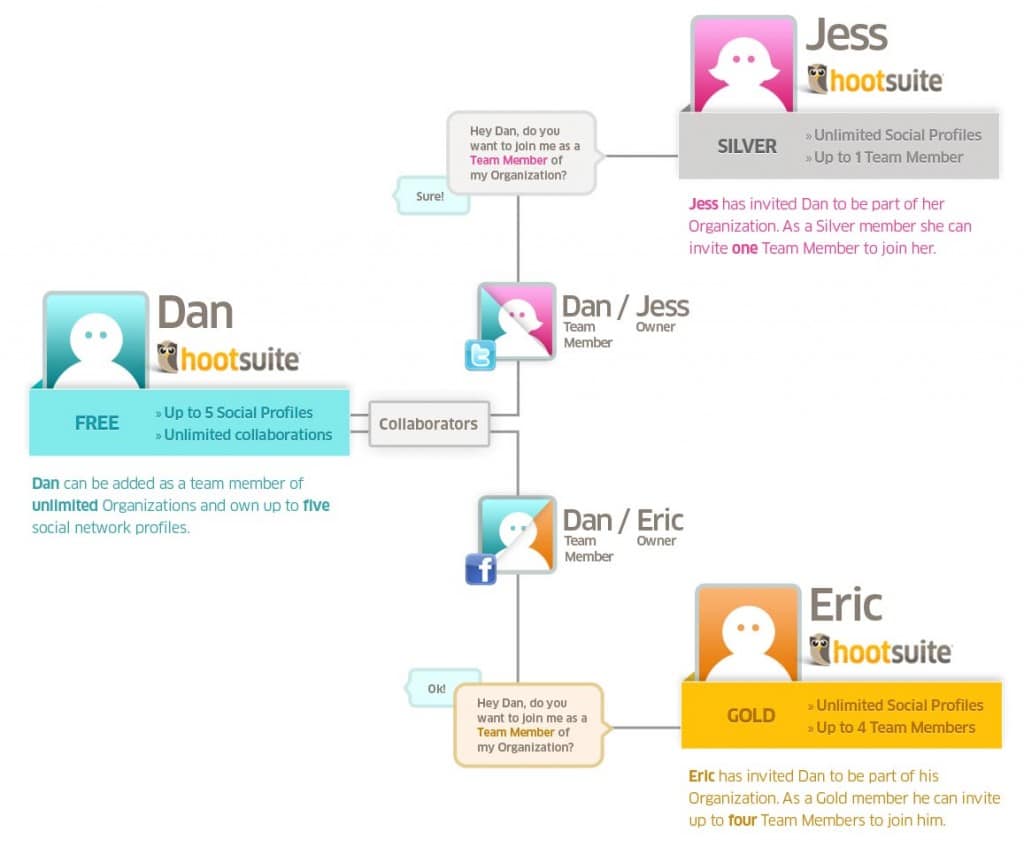 In-stream Ads
Next topic, ads in the free version. We will add Twitter's Promoted Tweets ads into the Twitter streams for customers using the free version. These ads will be the same ads that users will see on Twitter.com, as well as in other third party clients eventually.
Read more about Twitter's Promoted Tweets program in this post: Hello World posted by @biz.
Q. What will users see?
A. You will start to see Tweets promoted by our partner advertisers called out at the top of some Twitter.com search results pages. We strongly believe that Promoted Tweets should be useful to you. We'll attempt to measure whether the Tweets resonate with users and stop showing Promoted Tweets that don't resonate.
Owly Stats
As for Ow.ly, stats are included in the free and basic packages — and ow.ly stats will always be free. For the free accounts, historical data is limited to 7 days. Premium users with Enhanced Stats will also get access to Google Analytics, advanced URL parameters, and other compelling stats features coming soon (analytic geeks will love 'em!).
The included Ow.ly stats will continue to provide all the tools — including regional breakdown and individual message breakdown — which existed before the recent business-centric additions.
Payment Methods
We're adding Paypal, American Express and JCB (big in Japan) to the payment options in the coming days. Other ideas for payment methods? Please add or vote at the Feedback Channel.
Free for 95%
Finally, FREE. Yes, HootSuite will still be available as a free service. The free service includes the core HootSuite features:
Account Ownership for up to 5 social network accounts
Unlimited Team Memberships on additional social accounts
RSS feed to auto-update your network(s)
Ow.ly link click-through analytics with historical data going back 7 days
To determine the pricing levels, we analyzed data from active customers to ensure that 95% of current users would remain free based on current patterns. However, the free accounts don't include business-specific services like Google Analytics integration and Team Collaboration tools, which are used primarily by larger organizations according to our research.
Thanks again for your feedback, we are listening  to gather data to review the pricing plans in order to best serve the widest variety of users.