Global Communities and Case Studies ~ News Roundup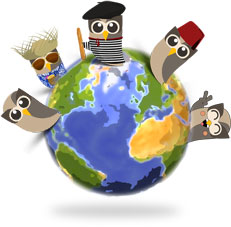 The HootSuite team is always seeking to refine the dashboard's features. A big part of the development process is understanding how our owls are using HootSuite. This has affected everything from security to analytics to the localization of HootSuite into different languages.
In this News Roundup we take a look at a few examples of how our dashboard is being used. Plus, we keep things international aiming our attention at reactions to our recent case study on Play Television and El Barco and the success of the HootSuite Translation Project.

How People Are Using HootSuite
With social media evolving everyday, we like to see how the dashboard is improving the lives of our users – be it promotion of a product, creating awareness for a cause, or just finding the right internship. Have a look at some examples of the dashboard in action.
Alex Toulemonde – How To Find An Internship? 5 Kick-Ass Web & Social Media Tricks.
There are a lot of discussions on Twitter about internships and jobs. Search for "Internship AND NYC" for example. Best practice is to read the tweets 15min in the morning and 15min before you go to bed. That way to don't waste your time. I'm sure you will find lots of opportunities. I personally recommend Hootsuite as it's the best twitter client for that.

TIP: Use HootSuite Mobile and find your internship wherever you are.
Alison Law Communications – How I Use HootSuite
This is how I personally use a tool called HootSuite to manage the chaos that Twitter can become. I guess I should note here that I'm not affiliated in any way with Twitter or HootSuite. I just like and use them and recommend them based on satisfactory results I've had for myself and my clients.

[…]

In addition to my own Twitter account @alisonlaw, I sometimes tweet on behalf of two clients and monitor their accounts. HootSuite allows me to bypass the hassle of logging in and out to the different accounts in Twitter. Instead, I can create a separate profile that shows up as a tab at the top of HootSuite. I can create different streams (columns) for each account and easily switch between accounts by checking the appropriate account button when I'm ready to "Send Now" in HootSuite.
Seattle Pi – Book Promo 101: Twitter For Writers
So how can a writer best use Twitter?

Try out the tools. It wasn't until I had more than one Twitter account that I tried HootSuite, and I love it.
Shari Lopatin – How Can Hootsuite Help Busy Writers (Or Anyone Else)?
Hootsuite has lots of other fun features, too. But for me–a busy writer who works full-time in the corporate world by day, and freelances for magazines by night–the ability to schedule social media posts in advance is key.

After all, I don't have tons of free time to throw away on social media.
Arts Professional – How Putting Neil McGregor In A Dress Could Save The Arts
Kentucky Libraries – Internet Reviews: HootSuite (PDF)
It's a Global Community
Here are a few articles that focus on the localization project and an excerpt on why HootSuite decided on crowdsourcing translations.
Social Technology Review – HootSuite Community Director Dave Olson Discusses Social Media Brand & Marketing Strategy
STR:  Speaking of mobile and global, HootSuite has a variety of smartphone apps that reach out to a global user base including one for Keitei (Japanese mobile devices). Are there other areas of the globe that HootSuite is following for growth?

DO: Absolutely. HootSuite CEO Ryan Holmes was able to pioneer the Japanese localization thanks to important relationships formed while he was in the country last year. We certainly see opportunities like this in other areas, as well. Additionally, our translation project has allowed for our dashboard to be translated into several languages on both web and mobile, and we've got several international team members here at HQ actively outreaching to international audiences to see how they use social media.

Other countries with high mobile use include The Netherlands (which also boasts the highest penetration of Twitter and LinkedIn users) across several platforms, and Brazil which is heavy on Android phones but light on the iPhone and BlackBerry. Indonesia is a fast growing country for us and we're exploring that area. South Korea has a voracious Internet appetite and Turkey is also growing rapidly."
El País – Hootsuite Se Estrena En Español (Spanish)
Daniel Robles, español afincado en Vancouver, responsable de Márketing Internacional, explica cómo se hizo la traducción: "Contamos con cientos de traductores voluntarios y dos coordinadores, Rafael Merino y Lola Buendía, que fueron más allá de la traducción. Se trataba de crear un estilo y adaptarlo a nuestra forma de ser. Por eso, para unir a todos los países de habla hispana, convertimos nuestro búho en un quijote"."
Common Sense Advisory – Crowdsourced Translation Fuels HootSuite's International Expansion
Why did HootSuite choose crowdsourcing over conventional translation methods?  "We did try them," Olson explains, "but HootSuite includes a lot of specialized social media-specific vocabulary which our users understand best since they use and talk about the tool with their local friends and colleagues. We think this real-world knowledge provides the best translations.""
Forum One Communications – Hootsuite and Crowdsourcing in Japan
Reactions to Play Television & HootSuite – The Twittersodios
For our non-Spanish speaking owls, use
Google Translate
to get the gist of these Spanish articles.
En su blog oficial ha publicado un caso de estudio que analiza al detalle cómo se ha dado vida a 14 perfiles de los personajes de la serie y cómo, a través de HootSuite, se han lanzado más de 150 mensajes en cada twittersodio.

Hootsuite recuerda el éxito de la serie, tanto en su audiencia en televisión como en twitter, en donde ha conseguido constantes trending topics durante la emisión de la serie cada lunes."
Wwwhat's New – Los Twittersodios, Un Caso de Uso de Gestión en Twitter (Spanish)

En el blog de hootsuite vuelven hoy con un artículo que puede ayudarnos a aprender ciertas técnicas en la gestión del contenido en Twitter."
Creo que "El barco" es un buen ejemplo de cómo trasladar la experiencia de la televisión a las redes sociales. Va más allá de mostrar los tweets de la gente: establece conversaciones con ellos, bien desde una cuenta oficial, bien desde cuentas (ficticias) de sus personajes. Crearon contenidos exclusivos para los seguidores "sociales" de la serie, premiaron su fidelidad en un concurso, adelantaban la experiencia en Twitter a la hora en la que comenzaba la emisión… Por lo tanto, no han integrado la serie y Twitter: han interactuado con los seguidores y han convertido el seguimiento de la serie en una experiencia verdaderamente social."
Help Hoot In Other Languages
Since launching our Translation Project in August 2010, we've seen the program play a role in world affairs from the Egyptian revolution to the Japanese earthquake as well as seen Twitter adopt a similar program.
During those international incidents we saw incredible spikes of traffic and – thanks to our crowdsourced contributors – people in these crisis areas can rely on social media tools to share important messages and outreach to affected loved ones.

We're looking real close to completing full localizations for Spanish, French, and Japanese! You can find instructions on how to get involved at the HootSuite Help Desk. Top contributors have the chance to get a #hootkit sent to them.
Localization Progress:
Spanish at (99% complete)
French (91% complete)
Japanese (85% complete)
Italian (52% complete)
Dutch (47% complete)
Portuguese (45% complete)
Don't see your language? Help close the gap on its completion or vote it up at the HootSuite Feedback Forum.
Closing

Thanks again to the wonderful owls that continue to help bring the HootSuite Dashboard into 27 different languages/dialects.
Keep up to date with the latest news and announcements by following @hootwatch and checking out our social bookmarks. As well, take a look at some more case studies we've done in the HootSuite Library. In addition to case studies, you can also find info sheets and white papers to help with your social media experiences.