Google+ for Brands: 4 Reasons your Brand Should Be on it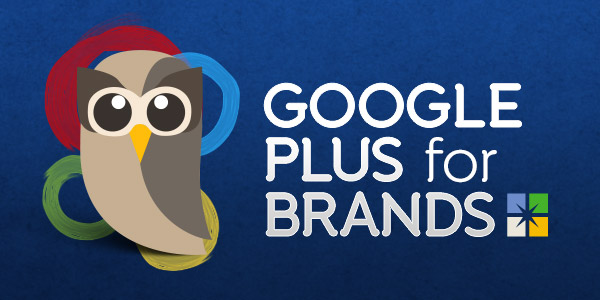 Google is everywhere. From Google Search to Google Maps, Google Earth to Google Docs, Gmail, GCal, GChat, all the way over to YouTube, Android, Google Play and Chrome web browser. Chances are that you've likely used a Google product. Interestingly enough, many people still believe that Google Plus (G+) is a ghost town
Fact: over 500 million people are currently on Google+ and approximately 343 million of them are actively sharing, +1'ing, "recommending" and taking action every month. Earlier this year, Google+ was named the second largest active social network in the world, after Facebook (and beating out Twitter and YouTube). As the network gains popularity, it's important to understand the value it can provide your business when approached correctly.
In this two part article, discover 4 reasons your brand should be present on Google+ and (in part 2) how best to showcase your brand, drive followers and engage with your community.
Did you know that HootSuite's integrated with Google+? Learn more.
Google+?
The purpose of Google+ is to make all of your Google experiences better and more connected. Think of it as a central profile that points all of your Google activity back to you or your business. Add your true identity, your relationships (social graph of connect), share and provide recommendations (+1) to your followers and people you care about and trust. From there, connect over shared interests and discover content that you may have overlooked otherwise.
Here's 2012's top Google+ moments that drove the platform:
4 Reasons your Brand Should Be on Google Plus: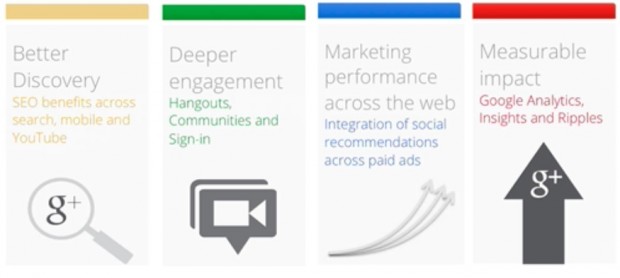 #1: Better Brand Discovery
Google Search's results page has completely transformed brands' presence and visibility online. On top of the usual business information, maps, brand images and website and social media details, people can follow and view your brand on Google+ right from a google search results. The Google Search page is prime real estate to introduce your brand.
In this search field, potential followers can see:
Recent Google+ post activity

Number of followers, profile image

Brand information

Whether your business is verified

If someone they trust has +1'd you (recommended).
If the "searcher" is already following your brand in G+, your brand's content will appear higher in the google search results page. #Bonus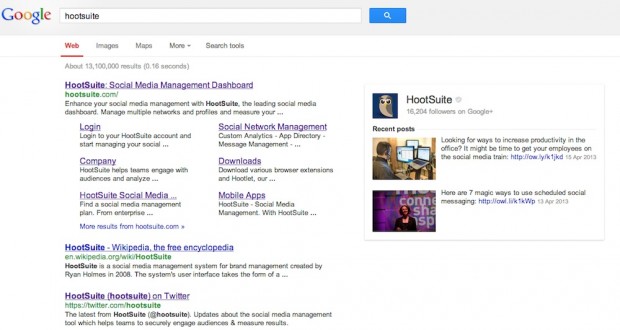 #2: Deeper Brand Engagement
Google+ Hangouts and Communities help your brand engage on a more personal level.
G+ Hangouts
In Hangouts, brands can video chat with people anywhere in the world, host virtual meetings (screenshare is useful here) or broadcast live concerts, shows, talks, conferences etc. Many brands have gotten creative with their interactive Hangouts by hosting interviews, sharing inside scoops, launching exclusive products and hosting live Q&A's or AMAs.
Use Hangouts to develop your reputation as an industry leader by sharing your opinion, connecting with other specialists in the field, staying on top of news, teaching what you know and offering help. Why not host a weekly Hangout where you share some of the above (or do the same in a Community)?
For example, Topshop transformed one of their fashion shows using Google Hangouts by giving the everyday girl an inside scoop on what it was like to be at (and in) the fashion show, interviews and backstage events. Topshop had 7500 live views of red carpet hangout and over 300k new Google+ followers in two weeks.
Here are a few examples of HootSuite's G+ Hangouts so far:
G+ Communities
In Communities, people come together to have rich conversations and discuss content over shared interests like food, shopping, art, music, etc. Brands can either drive, participate or moderate these communities. This is a great chance for brands to listen.
For example, National Geographic created "Exploration," an international community of people who share a "sense of adventure, a passion for exploration and discovery, a love of learning, and a desire to make a difference" – National Geographic G+.
Learn more about G+'s Foodie Communities:
#3: Increased Marketing Performance
Ads are getting more relevant and performing better than ever before. If you use Google AdWords to promote your business, turning on social extensions is essential. When brands add social annotations to their paid search ads there is a 5-10% uplift in click thru traffic rate (CTR) back to their site.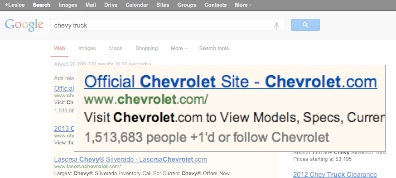 #4: Measurable Impact
How many conversions were as a result of social? Between Google Analytics, G+ Ripples, Insights and HootSuite Analytics, the impact that each social initiative has on your business' bottom line is easily tracked and measured.
G+ Ripples shows how a post was shared across Google+; who had the most reach and whose opinion was the most influential that shared the original post (size of circle matters). Tap into brand or key advocates that spreads the word for your business across the platform.
With Google and HootSuite's Analytic reports, your business can tie real dollar amounts to your social marketing and follow the full path to conversion with multi-channel funnels.
Hungry for more? Read Part 2 ~ "Google+ Best Practices for Brands" for Google's 9 steps to a successful Google+ strategy, what to post, how to drive followers and most importantly, how to properly engage with them.
Did you know that HootSuite's integrated with Google+ Pages? Learn more.