#HootSuite, Handmade for Online Retailers ~ News Roundup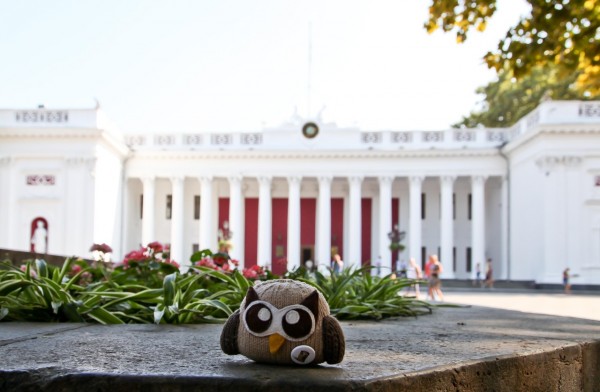 From Tokyu Hands to Martha Stewart Living, HootSuite is used by a wide variety of organizations. The dash's many features help both large and small businesses take charge of their social media strategy to build their business.
Following the growth and success of handmade marketplace, Etsy, we've seen many retailers use social media to increase audience awareness and engagement through creative marketing. Indeed, the collaborative workflow features in the dashboard make HootSuite an ideal tool for time-constrained artists and sellers.
This News Roundup highlights independent online retailers who are using the business-friendly tools in HootSuite – including scheduling updates, analytics and RSS feeds – to generate attention for their products and brands.
Take a look and learn how HootSuite can help you get the word out on your wares!
Retailing Raptors
Etsy – Top 5 Twitter Tips for Stress-Free Tweeting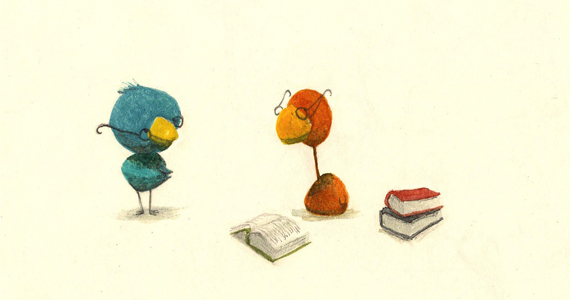 Photo by peterharren from Etsy blog post.
Personally I love HootSuite — I can check in and quickly see my Twitter feed, @ mentions, sent tweets, and direct messages at a glance, as opposed to the Twitter web version where you have to click on a few different tabs to see this same information. HootSuite also makes retweeting, shortening links, and adding images super easy and you can even set up streams that filter tweets using specific search terms, hashtags, etc."

Crafterminds – Learn How: Using Hoot Suite
I really love HootSuite, and not just because of the cute owl mascot – although it would be just like me to want to use something because of the cute mascot.  In this case, however, there are many practical reasons to use this online social media management platform."
Teetoo – Home Biz Tips: Etsy Treasuries, Handmadeology, Hootsuite
So HootSuite, I didn't know about it. I didn't know that I needed it. Now, it's my new best friend. I'll tell you the most important reason right now; everything in one place! That's right, Facebook business page, Twitter, blog, LinkedIn and a slew of other social networks all at the same time. Meaning that you can log in once, access all of your accounts and even schedule the times you'd like your tweets, posts etc. to be posted! Here's the link to the tutorial. I'm pretty sure I've already saved time on promoting my business. Also, I particularly like the way you can view your Twitter account. I find it makes Twitter a lot simpler."
Handmade Spark – Automatic Etsy Shop Updates on Twitter
Managing your time when you run your own online business is one key to reaching success.  Anytime I can set things on auto pilot I do it.  One step that you can eliminate in your daily process is posting new items on Twitter.  This can be set on auto pilot by using your Etsy RSS Feed and Hoot Suite."
Independent Fashion Bloggers – Savvy Twitter Tools: HootSuite
HootSuite is a browser based social networking site– I love this because I can log in from home or work, without having to download programs on to my computer (especially good for work use!).  It's one site that allows me to access Twitter and Facebook, along with sites like Foursquare, WordPress, LinkedIn, and more. I primarily use it for Twitter and Facebook, for home AND work."
Meylah – HootSuite & How It Will Help You Manage Your Social Media Presence
I've been using HootSuite for over a year and I still continue to find new features that are super helpful for running my business efficiently and effectively."
Unanimous Craft – Love Me Some HootSuite!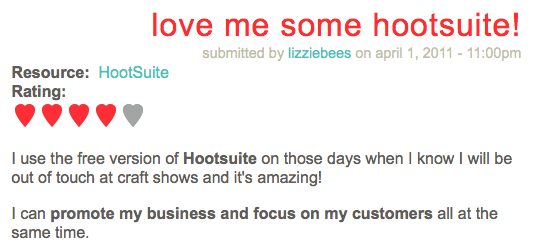 Pierogi Picnic – Consolidating Efforts: Working Smarter
The site HootSuite allows you to make the most of tweeting by combining your feed, direct messages, and more onto one screen. At a glance you can see  what's trending, who is mentioning you or your product,while stalking your favorite feeds. My favorite HootSuite tool for those time when I'm overloaded: The tweet scheduler. You can formulate exactly what tweets go out when – meaning that all your Twitter activity can pre-scheduled and then out of mind!"
Outright | The Bottom Line – 7 Tools For Your Etsy Business… And How to Use Them
Use a service like HootSuite (which also integrates with Facebook as well as other social sites) so you can add personal messages when retweeting other user's messages. It gives those you retweet more of an insight into who you are since it's not just blindly sharing a tweet – you're adding an opinion or thoughtful message to the conversation too."
Meagan Visser – How to Use HootSuite to Save Time with Social Media – Pt. 1 (Video)

Meagan Visser – How To Track Shortened URLs with HootSuite (Video)
Meagan Visser – 5 Easy Ways to Build Inbound Links
Plush Owly
In the past, HootSuite has dabbled with some crafts of our own – commissioning a plush edition of our beloved mascot. Created by yOomii last year, plush Owly has been traveling around the world with the HootSuite team.
This summer Owly did a tour with Five Hole For Food, a coast to coast ball hockey tour to support food banks across Canada. See where else our plush raptor been by following our Life of Owly Tumblr.
Owls Helping Owls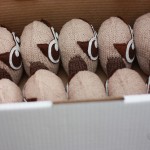 With this latest News Roundup – it's been great to see artists and sellers helping each other and finding innovative ways to promote their work and connect with their community. We're on the lookout for the best how-to articles and tutorials to include in the User Created Tutorials section of our Help Desk.
If you've put together a great article or video about HootSuite that should make our list, ping us at @hootwatch or leave a note about it in the comments section below.
You can also find a large collection of tutorials and related articles in our social bookmarks.