Hoo's Hooting in Boston: @RedSox, @BostonSymphony & Fonzie's Alma Mater
Owls are flocking East to link up with our friends at Hubspot for the Inbound 2012 event. We're shipping 11 of our finest from HootHQ to Beantown for what promises to be a memorable event.
What's on the docket for Boston? Not only are we sponsoring Inbound 2012, we're hosting not one – but two – epic shakers, and rumor has it, Owly will make an appearance sporting a new wardrobe! Check below for deets and be sure to RSVP to get your chance to meet us in person.
Fly in Formation
We're well represented in Boston, with users including: pro sports teams, major news outlets, politicians and social media gurus all sharing their messages with HootSuite.
You may have seen our previous "Look Hoo's Hooting" blogs about top brands, major cities and countries. This time, we share Boston's storied history so its no surprise to see  an eclectic and diverse list of HootSuite users… Lets take a gander at HootSuite fans in Boston:
Brands, Culture & Hospitality
@RedSox – Follow Big Papi and the rest of the boys on the Red Sox' Twitter list
@BostonSymphony – Ditch the cinema, step your game up and spend an evening in class with this renowned institution
@whereBOSTON – Your destination for culture, attractions and entertainment – plus, their Twitter feed is littered with #FunFacts
@YelpBoston – Boston's chapter of the ever-popular Yelp conglomerate
@Uber_BOS – Cabs are oldschool… arrive in style with this styling new black car service
@FSBoston – Four Seasons does an awesome job on social – checkout their Pinterest Page
@GiltCityBoston – Feeding members with fresh daily hits on restaurants, spas, entertainment venues and more
@MySecretBoston – Can you keep a secret about Boston's best food and entertainment?
@KimptonInBOS – Learn the best local spots to dine, dance and dilly dally
Civic Institutions
@MayorTomMenino – Head honcho in Boston, currently into his 5th term of service
@MassGovernor – The honorary Governor Deval Patrick not only Tweets up a storm, he keeps a Youtube Channel
@BostonFed – Think banks are boring? Step up and play their awesome Peanuts & Crackerjacks game where sports meets economics
@NotifyBoston – From power outages to traffic jams, stay connected to your city in real-time
@Mass_Consumer –  The office of Consumer Affairs & Business Regulation… Recently green-lit Uber in Boston!
@AidsWalkBoston – The largest awareness event for HIV/AIDS in New England
@BostonCollege – Premier collegiate institution with a storied history – join the convo at #WeAreBC
@EmersonCollege – Innovating communications education – Did you know they had the first graduate-level program for professional  publishing and writing? And the Fonz went here.
Media
@BostonGlobe – When it was founded in 1872, a newspaper cost only 4 cents!
@GlobeBruins – What will Timmy Thomas do next season? They've got you covered
@BostonDotCom – Blasting your Twitter feed with real-time news hits
@BostonPhoenix – Keeping Boston indie since 1966
@BostonHeraldENT – Fresh updates from the arts & entertainment section of the Boston Herald
@StoolPresidente – Sports and pop culture commentary served with their own special sauce
@BostonMagazine – Delivering culture, fashion, food and entertainment for 40 years
@CSNNE – Local sports beat – covering the (disappointing) Red Sox, (aging) Celtics, (surging) Pats and (feisty) Bruins
@DigBoston – News, events and nightlife for the aspiring hipster in everyone
@BostonComMag – Commoners rejoice! This mag preaches lifestyles of the rich and (in)famous
@NECN – Out with the old, in with the New England Cable NEWS
Delectable Edibles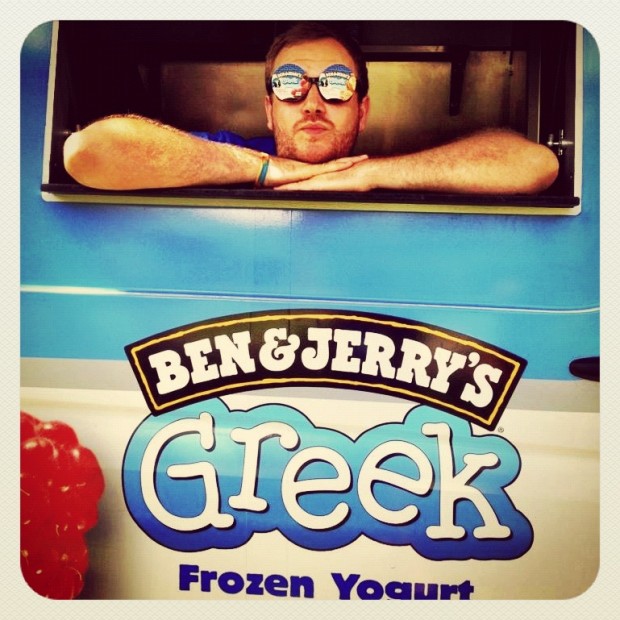 @BenJerrysTruck – Touring 12 cities this summer – currently killing beach bodies in Boston
@BostonChefsNews – Showcasing talented chefs, restaurants and chow
@EdibleBoston – Promoting Boston's food transformation by highlighting  new and local eats
@BonMe – Can't miss these bright yellow and blue food trucks serving up authentic Vietnamese food
@GlobeFood – Recipes, news and reviews from their popular Dishing Blog
Smart Peeps
@ChrisBrogan – Digital guru, thought leader, *insert corny socmedia accolade here*. He's a busy man, balancing professional speaking, writing, blogging and his biz, Human Business Works
@DMScott – Acclaimed writer and expert on all things marketing and PR. His latest book, Newsjacking, is taking the PR world by storm!
@JoeLauzon – UFC fighter who first appeared in the popular series: The Ultimate Fighter. He's fresh off an impressive third round submission win over Jamie Varner at UFC on FOX 4
@JohnJWall – Writer on marketing, sales and tech – also co-host of the popular Marketing Over Coffee podcast
@BostonMamas –  The Most likable mom on Twitter is the go-to resource for families
@KateDickman – Digital Manager for Lindt Chocolate USA, self-proclaimed geek who loves sushi and travelling
@BostonAbrams – The man behind Boston.com and the Boston Globes social and digital personas
Tech
@Hubspot – Changing the world of marketing. Checkout their recent blog on "Funny Brands you can't help but Follow on Social Media"
@GoogleBoston – Circle up with G+'s Boston outfit – great on Twitter; engaging with followers and reporting news and helpful local tips
@DigiMindCI – Helping you uncover the hodge-podge of social intelligence, data mining and big data
@SmallArmyAgency – Marketing and creative agency… warning: they Tweet what they eat for breakfast
Hoo Else?
There's our quick list recognizing Beantown's best. From industry influencers to pro sports teams – HootSuite is well-represented throughout Boston. Our list is by no means complete – if you're a Bostonian using HootSuite, we'd love to hear from you in the comments!
Ain't no Party like a HootSuite Party
Speaking of representing HootSuite in Boston, clear your social calendar on Monday and Wednesday because the Owls are hosting!
#HootUpBoston: We're hosting an informal, casual HootUp at the Pour House Boston on Monday, August 27 circa 5 PM. Sign-up and Meetup for drinks, casual convos and networking with hashtags and hi-jinks.
#HootAfterParty: Join our parliament of Owls and other Inbound 2012 attendees on Wednesday, August 29 for drinks at McGreevy's Irish Pub, 6PM sharp – You can share your feedback an sign up for the HootSuite Partner Program, just don't forget your party hat!