Hoo's Hooting on Campus: @Yale, @UVic and the Alma Mater of Ali G @Cambridge_Uni
The following is written by HootSuite Campus Ambassador Intern, Mark Woo.
Here at HootSuite, we are serious about education and learning. Whether it's tips and tricks on how to use HootSuite or sharing social media insight through HootSuite University's Lecture Series, HootSuite is dedicated to sharing the latest social media best practices.
Renowned universities and colleges from all around the world are using HootSuite to engage with their audiences in creative and inspiring ways and enrolling students in HootSuite University to empower them with the social media skills and savvy that the future demands.
Prestigious universities such as Yale, Tokyo University, Carnegie Mellon, California Institute of Technology and many more use HootSuite's social media management system to connect with their students, faculty and staff.
Here are just some of the universities and colleges around the globe that are using HootSuite:
United States
Europe
Canada
Asia
Australia
Hoo Else?
This is just our quick list of universities and colleges worldwide using HootSuite's social media management system, but this list is far from being complete. Does your institution use HootSuite, but is not listed here? We'd love to hear from you! Tweet us @HootClub.
Go Back to School with HootSuite
During the month of September, we're offering 50% off one month of HootSuite University. Advance your social media education and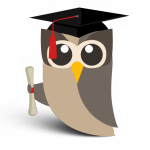 take advantage of this limited-time offer!
Tweet the following and we'll tweet back with your coupon:
I'm advancing my social media education & going back to school with
@HootSuite_U! http://ow.ly/dkm8d #HootSuiteCampus